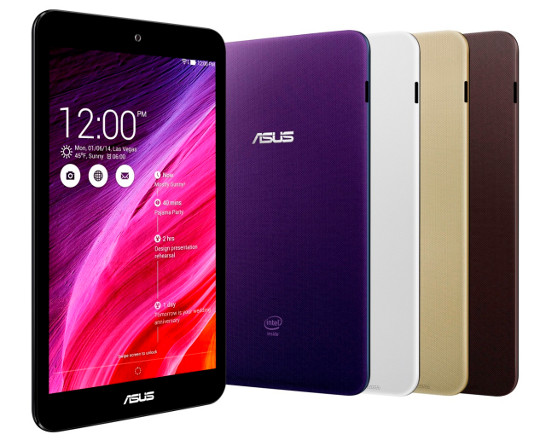 Asus unveiled several new devices this past week at Computex. Among them are two new budget tablets, the Memo Pad 7 and Memo Pad 8 (ME176CX and ME181C).
Both tablets are available for pre-order at Amazon, Newegg, TigerDirect and GameStop. The 7-inch Memo Pad is $149 and the 8-inch Memo Pad is $199. They will be released on June 22nd.
These tablets are a bit of change for Asus. They both feature Asus's new ZenUI and are powered by 64-bit Intel Atom quad-core processors that run at 1.33 GHz, with Turbo up to 1.86 GHz.
Aside from the screen size difference, both tablets are very similar. They have the same 1280 x 800 screen resolution, both run Android 4.4 KitKat, and have 16GB of internal storage, with 1GB of RAM, and a microSD card slot. Both have GPS, 2MP front cameras, 5MP rear cameras, Bluetooth, stereo speakers, and have 9 hours of battery life.
The Memo Pad 7 is available in white, black, red, and yellow, and GameStop offers and exclusive blue model. The Memo Pad 8 comes in white, black, and purple.
Asus has priced both tablets competitively. The Memo Pad 7 is comparable to the 7-inch Samsung Galaxy Tab 4, and it adds better cameras and more storage space for $50 less. The Memo Pad 8 is also comparable to the 8-inch Galaxy Tab 4, which is priced $70 higher. The Galaxy Tabs offer some extra software features, an IR blaster, and a little more RAM.
Asus also has another 8-inch Memo Pad (ME581CL) in the works. It was announced along with these two tablets, but it's not up for pre-order yet. It's a slightly higher up model. It features a faster Intel Atom 2.3GHz quad-core processor with 2GB of RAM, and has a higher resolution 1920 x 1200 screen.
Source: Asus