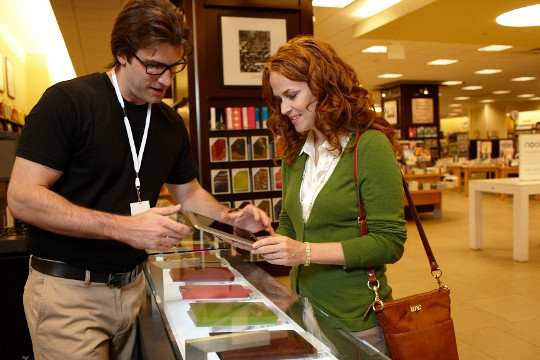 Barnes and Noble announced today that they are splitting up with Nook. The divorce could get messy, but they still plan to work together after the separation…for the kids.
The analogy may sound a bit weird but that's pretty much exactly what's happening. B&N plans to separate their Barnes & Noble Retail business and Nook Media division into two separate companies.
The split isn't going to happen immediately; if everything gets approved and goes as planned, the separation will be completed in early 2015.
Nook Media has been dragging down B&N for the past couple of years, so the move really isn't surprising. B&N released new numbers on the Nook brand today and the outlook is not good. Overall Nook revenues decreased by 22.3% for the quarter and 35.2% for the year. Nook device and accessory sales are even worse, down by 30.1% for the quarter and 44.8% for the full year.
It will be interesting to see how this all plays out for Nook Media. B&N recently announced that they would no longer be making any more Nook tablet devices, that they would be partnering with other companies for hardware instead. That's where the Samsung Galaxy Tab 4 Nook comes in, Samsung hardware with Nook software. If hardware is already on the way out for Nook, that just leaves apps and digital content to manage.
But without B&N, where does that leave Nook Media? I often hear people say that they are pulling for B&N and hope that Barnes and Noble does well and stays in business. That's an excuse a lot of people use to buy Nook books and Nook devices. Without that, Nook is going to be in even worse shape.
Things aren't looking good for Nook right now. Hopefully splitting the companies into two separate businesses can benefit them both in the long run.