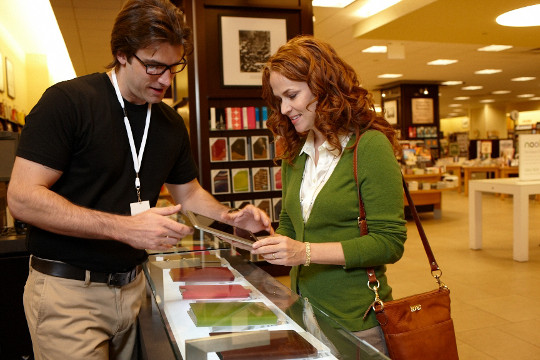 This past week Barnes and Noble announced that their CEO, William Lynch, has resigned. It's no secret that B&N has been struggling financially for some time now, and this is just one of many dominos to fall over the past few months.
An interesting detail to note, B&N didn't replace their CEO. Instead they basically split the company into two divisions, one for Nook Media, and the other for their college and retail stores. The same executives will remain the heads for the latter two, while Michael Huseby was promoted from Chief Financial Officer to CEO of Nook Media.
At this point it will be interesting to see where Nook Media ends up and what changes will be made. There have been rumors that Microsoft could possibly buy Nook Media, especially since they invested 300 million dollars in them last year.
Whatever happens, it's going to take strong leadership to reinvigorate the Nook brand after the major beating it has taken over the past couple of years.
A lot of people want to point the blame of the Nook's numerous struggles squarely on Amazon, such as this article published by the Guardian. But I disagree. Everyone wants to blame Amazon for everything anymore. It's gotten ridiculous.
The reason Nook Media is struggling is because of the bad decisions made by B&N's leadership. Amazon didn't make B&N choose to use exclusive DRM that locks Nook books into B&N's reading apps and hardware (if B&N had just chosen to use regular Adobe DRM instead they could've been selling ebooks to all the Sony Reader, Kobo, and other ePub ereaders all this time instead of just to people with Nooks).
Amazon wasn't responsible for B&N's lack of expansion into international markets, either. In four years Barnes and Noble has only managed to expand the Nook into one country outside the US. Amazon, meanwhile, has managed to expand the Kindle to over 180 countries. Kobo and Sony have both majorly outpaced B&N in international expansion as well.
Amazon also didn't force Barnes and Noble to lock down their tablets from installing third-party Android apps. The locked-down nature of B&N's tablets was always a major negative that turned people away. Adding support for Google Play was too little too late, as evident by B&N recently announcing that they won't be manufacturing any new Nook tablets.
It wasn't Amazon that killed the Nook tablet either, B&N did that themselves, and I can recall the exact instant it happened. It was when B&N issued a firmware update for the Nook Tablet to close a loophole that allowed users to sideload Android apps. After that things went downhill for the Nook Tablet big time, which was especially disappointing after how successful B&N's first tablet was, the Nook Color. And then when they released the Nook HD and HD+, B&N continued with their locked-down nature. You can't help but wonder how different things would have been if B&N had just shipped the Nook HD/HD+ with Google Play from the beginning. It sure would have made them a lot more appealing than the Kindle Fire HD tablets. But B&N neglected to capitalize on that opportunity, as they've failed to do time and again.