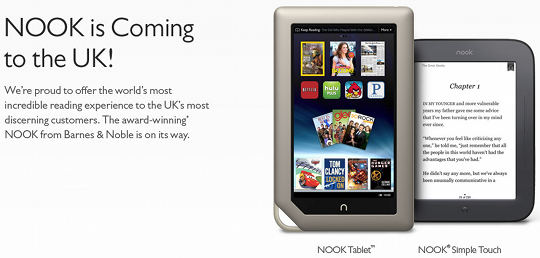 Barnes and Noble announced this morning that Nook devices, Nook reading apps, and Nook content, including ebooks, digital newspapers, magazines, comics, and even Nook Android apps, are headed to the United Kingdom this fall.
The first products to reach UK shores in mid-October will be Barnes and Noble's E Ink ereaders, the Nook Touch and Nook Touch with GlowLight.
Barnes and Noble has setup a UK storefront for the Nook at www.nook.co.uk and will also sell Nooks from UK retail partners both in-store and online. The partners haven't been announced just yet, however. Waterstones seems like a name that could come up.
Barnes and Noble is a US company and this the is their first attempt at international expansion. All the other major players in the ebook reader field—Amazon, Kobo, Sony—have already expanded into several international markets so it's about time Barnes and Noble did the same.
It sounds like it might take a while for B&N to launch their color ereaders over there though. The press release mentions the Nook Touch will launch in time for the holiday shopping season, which makes it sound as if the Nook Tablet won't be available by the end of the year. Hopefully they can get it out before then.
Nevertheless, it's good to see Barnes and Noble finally making the push to expand internationally. That's one down. Now just two to go.