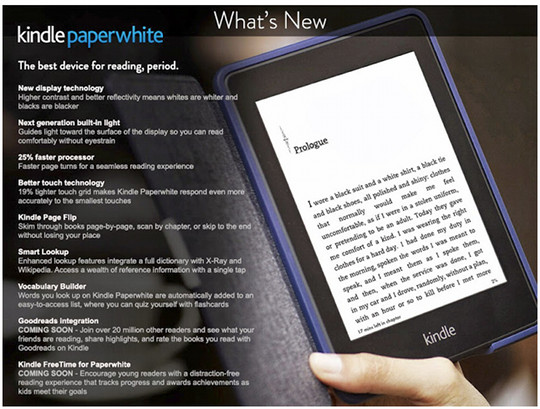 Amazon's latest Kindle Paperwhite has one of the clearest and easiest to read screens of any ebook reader with its 6-inch E Ink Carta display and evenly-lit frontlight.
The Paperwhite normally sells for $119 for the Wi-Fi model, but today you can get one for $85 via Amazon's Deal of the Day. It's a refurbished Kindle, but it comes with the same 1 year warranty as a new Kindle. The refurbished Paperwhite normally sells for $109, so getting it for 22% off is a fairly significant discount.
Amazon has also been offering Kindle Fire tablets for their lightning deals. Right now they've got refurbished Kindle Fire HDs going for $89, but there's only like an hour left for that deal.
Another good deal today can be found on eBay. The 2nd gen Nexus 7 is going for $159 with free shipping. Plus it's the 32GB model, which normally goes for $269 new. These ones on sale aren't new; they are labeled as "Like New Condition Factory Refurbished".
As mentioned in an earlier article, Newegg still has some tablets on sale via eBay too. There are lots of Galaxy Tabs and Asus tablets.
The Nook HD+ 32GB can be had via Daily Steals for $125 refurbished. And the poor neglected Nook Touch has been on clearance for $35 at OfficeMax for months now.
In case you missed it, the Kobo Aura and Kobo Arc HD tablets are on sale right now too. The Kobo Aura is marked down to $109—that's $30 off retail. And the HD tablets are up to $100 off.