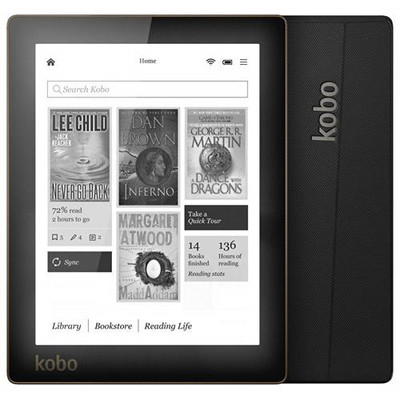 Kobo is currently running some summer reading promotions. The Kobo Aura is marked down by $30, and the Arc HD tablets are on sale too. Plus Kobo is giving away some free ebooks and magazines with each device purchased.
The discounted Kobo Aura and Kobo tablets are available online at Kobo.com and from participating retailers such as Chapter.Indigo in Canada. No retailers in the US have the discounted prices, however. In fact Best Buy is still selling the Kobo Aura at its original price of $149, despite the retail price being dropped to $139 months ago. I guess they never got the memo…
This summer deal takes the price of the Kobo Aura down to a more approachable $109. That's $30 cheaper than the comparable Kindle Paperwhite with no ads. Unfortunately that's the only Kobo ebook reader on sale, but a couple of Kobo's tablets are being discounted too.
The Kobo Arc 10HD is on sale for $299—that's $100 off the regular retail price, and is probably what the tablet should have been priced at to begin with.
Both models of the 7-inch Kobo Arc HD are on sale as well, although Kobo appears to be out of the 32GB model because there is no option to select it. Nevertheless, the 16GB model is marked down by $30, taking the final price down to $169. And the 32GB model, if you can find one, is marked down by $50, making the sale price $199.
Kobo is also giving away 2 free ebooks with the purchase of a Kobo Aura or other Kobo ebook reader. The free titles include Garden of Lies by Eileen Goudge and The Charlotte and Thomas Pitt series, Book #1 (The Cater Street Hangman) by Anne Perry.
The Kobo Arc HD tablets come with some freebies too, including free single issues of Elle Canada and Canadian Living, as well as Dora's Big Buddy Race by Nickelodeon.
The summer sale discounts run from now until July 23rd, 2014.