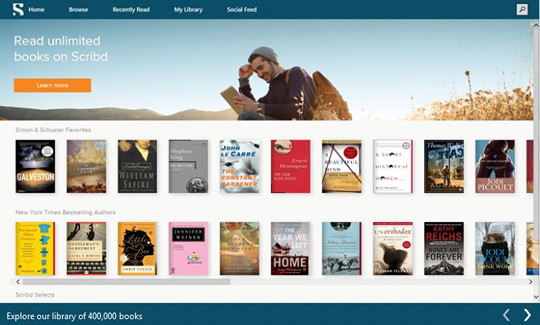 Scribd is among a small group of companies offering ebooks as a monthly subscription service. Instead of buying individual ebooks, you pay a monthly rate of $8.99 to get unlimited access to Scribd's growing catalog of ebooks that now consists of over 400,000 titles.
Today Scribd announced the addition of a Windows app to go along with their iOS and Android reading apps (Scribd's ebooks can be read using a web browser too). They also released updates today for the iOS and Android apps to give them a new look and some added features.
Here's what's changed:
New redesigned book page includes book descriptions, reader reviews, and related titles.
A new color palette and all-new fonts throughout the app.
Horizontal book-to-book browsing in collections.
Improved library management: tap "+" sign on books to save them to a device, add them to your library, or add them to a collection.
The updated Android app is available from Google Play now. The update for iOS won't be available for a few more days. Windows phone and tablet users can find the new Scribd app in the Windows app store.
Scribd is currently offering a free three month trial offer to get Windows users started reading ebooks, although it appears anyone can use the code. Here's the promo code link.