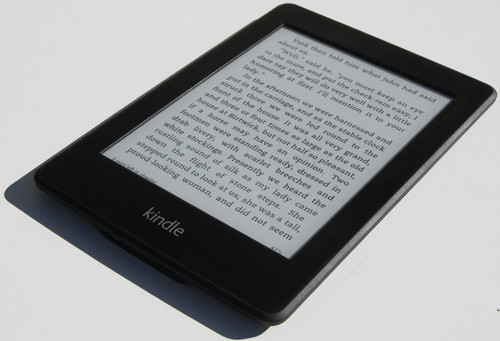 Amazon released a software update for the 2nd generation Kindle Paperwhite today. The new firmware version is 5.4.5.
The update adds a few new features, including syncing and PDF enhancements, and the option to read the sample of a Kindle ebook while awaiting the arrival of a purchased paper book.
Like always, this update will automatically download and install on the Kindle Paperwhite when connected to Wi-Fi. It might take a week or two. Or you can choose to download the update and install it manually.
The update can be downloaded from Amazon's Kindle Paperwhite 2 software updates page.
The software update includes general improvements and the following feature enhancements:

Sync to the Most Recent Page Read

Any books you are reading on your Kindle Paperwhite will now sync to the most recent page read across all Kindle devices and/or reading apps registered to your Amazon account. You can still manually sync your Kindle Paperwhite to go to the furthest page read.

Preview a PDF in Pan-and-Zoom Mode

When viewing a PDF in pan-and-zoom mode, you will now see a small preview window in the margin of the screen.

Read a Sample While Your Physical Book Ships

While you are waiting for select physical books to arrive at your doorstep, you can start reading the book right away by adding a sample of the book to your Kindle library. With this release, these samples will be now available for download in the Cloud tab of your Kindle Paperwhite in addition to your other supported Kindle devices and apps. Any previous samples you have claimed through a physical book purchase will also be available in the Cloud to download.