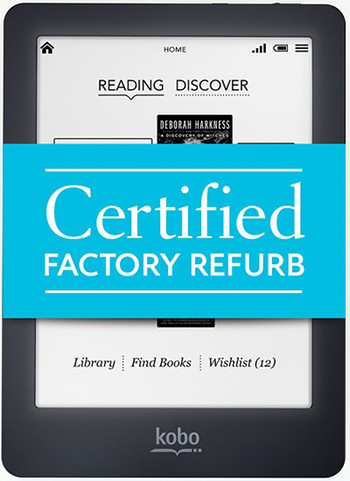 Kobo is now selling a couple different refurbished Kobo ereader models, and they've even started advertising them on their website with a banner at the top of every page.
Right now they have the Kobo Glo and Kobo Touch available certified factory refurbished, but not the newer Kobo Aura or Kobo Aura HD.
The Kobo Glo is the better deal of the two. It's selling for $79.99. That's $50 off the price of a new one. The Kobo Touch is a decent deal too for $49, but a brand new on is only $30 more.
It's interesting that Kobo continues to offer the Kobo Touch even though it was released over 3 years ago. Nonetheless, $50 isn't a bad price for a touchscreen-equipped ebook reader with a memory card slot.
The Kobo Glo at $80 is one of the cheapest options for a 6-inch ebook reader with a frontlight. Newer frontlight models sometimes go on sale for $99, like the Nook GlowLight through this weekend, and sometimes the Kindle Paperwhite, which currently goes for $109 refurbished.
Too bad Kobo doesn't have any refurbished Kobo Aura HDs or Kobo Auras available—those would probably go pretty fast. This is the first time I've seen them offer refurbished readers before; perhaps more models will get added to the list soon.