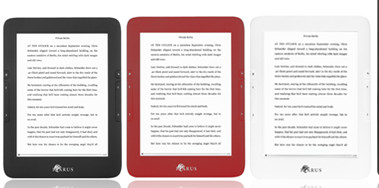 The folks at Icarus sent over an email about a software update for the new Android-powered Illumina HD that I just got in for review last week.
The update adds some new features and fixes some bugs. It's a good thing I haven't posted a video review yet because now things are quite a bit different with the built-in reading apps. The menu interface has a new cleaner look and there are better font size choices now.
They also added the option to pull up the Android quick settings and notifications menu by pressing the icons in the lower right corner.
Here's the rest of the changelog:
Some status messages were difficult to read due to low contrast between background and text. This is now corrected.
Improved translations in several items.
If you accidentally change the Settings icon in the Settings menu you can still undo it afterwards.
Issue with wrong display of special characters in pop-up menus is solved.
Apps are now alphabetically sorted automatically in the Apps menu.
Improved Reflow in PDF documents: when increasing to very large font size the previous firmware could cut off some text at the top and the bottom of the screen. This is now fixed.
Icarus's website doesn't use regular urls so I can't link to their firmware updates page, but you can find all the user manuals, update files, release notes and other guides by visiting the downloads section of icarusreader.com.
To install the firmware update, you can use the OTA (over-the-air) option from the Illumina HD by going to settings > about device > system update > check update version. Or you can download the update to a computer and sideload it onto the device via USB. Just place the update.zip file on the root of the Illumina HD's drive and then safely eject the device from your computer. The ereader will recognize the update and prompt to install it, which takes a few minutes.