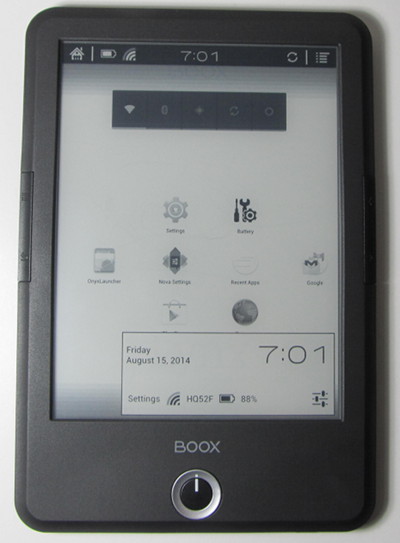 This article is dedicated to listing various tips and tricks for the Onyx Boox T68 Lynx. Please note that there are different models available, as described in the Boox T68 review. Some of the tips below may differ slightly for certain models.
Feel free to leave your own tips and recommend apps for the Boox T68 in the comments section at the bottom of the page.
Basic Tips and Resources
1. User Guide – Here's the link to the online user manual. You can use the download link to get the PDF.
2. Turn Frontlight On and Off – The shortcut to turn the frontlight on/off is to press and hold the circular selection button below the screen.
3. Page Refresh Shortcut – Press and hold the menu button to force a full screen refresh at anytime. This helps get rid of any afterimages that can sometimes build up with E Ink and helps make text appear sharper and clearer.
4. Access Notifications Menu – Tap the battery icon in the upper left corner to open the notifications menu, which shows the date and time, along with the exact battery percentage, and the settings menu can be accessed from there as well. You can swipe notifications away (doesn't always work the first time) or tap them to launch an app or download.
5. Change Homescreen List – The list of books that appear on the default homescreen can be changed to display recently added titles or newly added ebooks. Located under Settings > User Preferences > Homepage Preference.
6. Check Storage Space – All the storage space information for the T68 can be found by going to Settings > System > Storage. Tap on each field to see a list of content.
7. Partial Refresh Mode (A2 mode) – Tap the circle in the top right corner to toggle partial refresh mode on and off. Quality first refreshes the E Ink screen whenever screen images change, whereas the Performance first setting doesn't refresh the screen and makes things such as scrolling smoother.
8. Enable Adobe DRM – The T68's built-in app supports ebooks with Adobe DRM. This can be enabled by going to Settings > Extension > DRM settings.
9. Sleep/Power Off Settings – Go to Settings > System > Power Management to set how long it takes before the Boox T68 will automatically shut down. Setting power off timeout to "never" makes it so you don't have to wait for the device to boot up all the time, and seems to have little impact on overall battery life.
10. Onyx Boox T68 Covers and Cases – Right now there are three places to get covers. Amazon has the official T68 Lynx cover for $20; the same cover is available in Europe from Arta Tech for 19 €. A different style protective cover is also available from an ereader retailer in Germany.
Advanced Tricks
11. Install Alternate Homescreen – Like any open Android device, you can install alternate homescreen launchers on the Boox T68. Nova Launcher works well. There are lots of customizable settings, widgets, and shortcuts. Using a white wallpaper background (this Color Wallpapers app works well) and minimizing animations in settings helps improve rendering on the E Ink screen.
12. Access Full Android Settings Menu – The Onyx Boox T68 Lynx's settings menu is a modified version of the regular Android settings menu and doesn't include all the options typically available. Once you install an alternate homescreen launcher like Nova Launcher, you can access the full Android settings menu from there (Nova adds an app icon for Settings, not to be confused with Nova Settings; you can also hit menu on the Nova homescreen and select System Settings).
13. Access Recent Apps List – When using Nova Launcher, tapping the homescreen button from the Nova homescreen brings up the recent apps list. You can also set a separate button for it. This makes jumping between apps quicker.
14. Access OnyxLauncher from Nova – Once you set Nova Launcher as the default app when you press the home button, you can no longer access the default OnyxLauncher homescreen. But you can create an app icon for it on Nova by doing the following: Long press on the homescreen, select Shortcuts, Activities, then scroll down to where "O" is listed and choose OnyxLauncher (the menu items aren't visible on this screen so it takes some trial and error to get the right one and the list often crashes before it will work right).
15. Add This Tips and Tricks Guide to Your Boox T68 – If you want to add this guide to your Boox T68 for future reference, you can open this article using the built-in web browser. Then hit menu and select "Save for offline reading". Then it can be accessed anytime by going to the Saved Pages tab in the bookmarks section of the web browser, even without an internet connection. Additionally, if you bookmark this article with the web browser, you can use Nova Launcher to add an icon to the homescreen for easy direct access. Do this by long pressing on the Nova homescreen, then select Shortcuts, and then Bookmarks.
16. Uninstall Apps – Installing apps is easy with Google Play. To uninstall an app, go to the Apps list and long press on an app icon and choose delete, or you can select manage from the menu to access all apps. Note that you can't uninstall the preloaded apps.
17. Select Different Reading Apps – From the homescreen and library list, if you long press on an ebook you will get the option to open it with different reading programs (from the library you have to choose "open with"). Lots of apps support the same ebook formats, and each offers different features. Once you select to set the app as the default then it will always open a certain file type automatically. You can clear defaults by going to Manage Apps, selecting the app, and then hitting the clear defaults button.
18. Monitor Battery Usage – Go to the full settings menu (#12), then Battery to monitor which apps and services are draining the most power. GSam Battery Monitor is an app that works even better to monitor battery usage.
19. Wi-Fi and Bluetooth Widget – Using a Wi-Fi widget with Nova Launcher makes turning on and off Wi-Fi much faster and easier without having to go into the setting menu. There's a preinstalled widget that has this feature already built-in. Choose Power Control from the widget list. It also works well for turning Bluetooth on and off quickly. There are dedicated widget apps for these that can be downloaded from Google Play that take up less room on the homescreen.
20. Increase System Font Size – Even though it's mentioned in the user manual, there is no font choice option in the settings menu like there is with a typical Android device. But I found a trick to increase font size across the whole system that may come in handy for those with poor eyesight. Go to the full settings menu (#12) > Accessibility, select Large Text. The screen goes black, hit the back button to back out and you'll find much larger text throughout the interface.
21. Add Fonts to Reading App – You can add new additional font choices to the default reader app. However, this requires the device be rooted (#28-30) because the folder is read-only be default. To add new fonts after rooting, place them in the System > Adobe > Resources > Fonts folder.
22. Reading History/Stats – If you go to the built-in reading apps' library view and tap menu, there's an option to show history. This lists your recently read books and gives first and last reading times, and shows how long you've been reading each book, with reading time estimates.
23. Connect USB Keyboard/Mouse – This YouTube video shows that it's possible to connect a keyboard and mouse via USB using this External Keyboard Helper Pro app. For some reason I could not get this to work on the Lynx using the free trial version of that app.
24. Reading Apps – The Boox T68 comes with several reading apps preinstalled. Below is a list of some additional reading apps that work on the T68 that you may want to try:
Software Updates and Rooting Guides
Note: There are different T68 models. If you are downloading an update or restore package online make sure to get the one for your specific model. Installing a software update for the regular Boox T68 on a Lynx model won't work, and vice versa. The easier option is to just use the OTA update option on the T68 by going to Settings > About > System Update.
25. Onyx Boox T68 Lynx Firmware Updates – Here's the link to the page with firmware update information for the Arta Tech version of the T68. This is the model sold from Amazon and Onyx-Boox.com.
26.Onyx Boox T68 Booxtor Firmware Updates – Here's the page with all the update information for the Booxtor version of the T68 that is sold from eReader-Store.de.
27. Recover a Bricked T68 or Change From Lynx to Booxtor Edition – Here's the link to a thread at MobileRead with a software restore package designed to fix a broken Boox T68 or change the software from a Lynx version to Booxtor's version.
28. One-Click Rooting Method for Boox T68 – Here's the link to a thread at MobileRead with a one-click rooting package for the T68.
29. Another Rooting Method – A second rooting option that works with the T68 is to use towelroot v1.
30. How to install Incompatible Apps on Boox T68 – Here's a guide at MobileRead that explains how to install apps on the T68 that are listed on Google Play as incompatible. This guide also includes an alternate rooting package.
Onyx Boox T68 Tips and Tricks Video