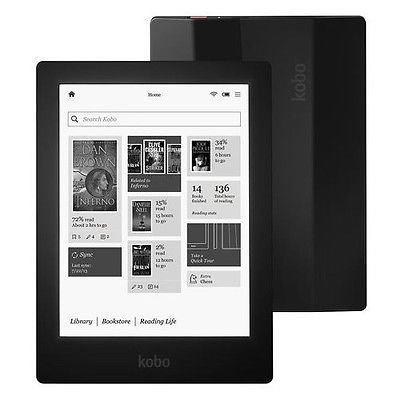 It appears that Kobo is getting set to release a new ebook reader, and it looks like it is going to be a replacement for the Kobo Aura HD.
A new device that bears the name Kobo Aura H2O went through the FCC last week. The paperwork doesn't contain very much information, but there is one telling detail revealed.
The new Kobo Aura H2O has a 6.8-inch screen. That's the same size screen that currently comes on the Kobo Aura HD, which just happens to be on sale at Kobo.com this week for $149 (it seems that Kobo is already clearing stock, preparing for a replacement).
There's also indication of Wi-Fi and a microSD card slot—hardly surprises.
Kobo's hardware partner, Netronix, are the ones that submitted the paperwork to the FCC. Most of the important info is embargoed until November 4th. That could be an indication of a possible release date in the US.
This corresponds with a tweet by evleaks last month that proclaimed a Kobo Aura H2O ereader would be coming this fall, and that it would be IP67-rated for extreme reading situations. An IP67 rating means the device is completely dust-proof and waterproof up to depths of 1 meter.
It's good to see that Kobo does indeed plan to release a new ebook reader this year, but I personally don't see waterproof ebook readers being very much in demand, especially with an untimely fall/winter release. But waterproofing seems to be the new fad. PocketBook recently released the PocketBook Aqua, and a waterproof Kindle Paperwhite has been available for a couple years now.
via: Lesen.net