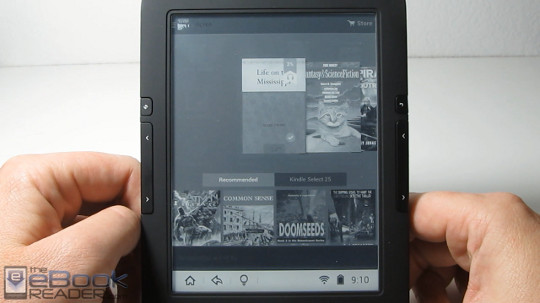 The Icarus Illumina HD is a 6-inch E Ink ebook reader that runs Android 4.2 and comes with the Kindle reading app preloaded.
It's a newer version of the Kindle Android app, version 4.5.1.6, with adjustable font types and audiobook integration, although audiobooks don't work on the Illumina HD because it does not support audio.
I was surprised to find that the Kindle Android app works better on the Illumina HD than it does on the Onyx Boox T68. It loads a little faster, page transitions and scrolling are slightly smoother, and I've experienced zero crashes. The biggest difference, the interface works flawlessly on the Illumina HD when shopping and browsing the Kindle store, whereas the T68 mostly crashes and when it does load the Kindle Store menus are hard to read and navigate.
The T68 does have the advantage of using the nav wheel button to turn pages; the page buttons on the Illumina HD don't work with the Kindle app. Instead you have to touch the screen to turn pages like with a tablet or phone. Update: Both sets of page buttons do work if you enable page turns with volume buttons in the Kindle app settings, and then again in the main Icarus settings menu, located in User Defined settings.
The Kindle for Android app is of course designed for tablets and phones with LCD screens, but everything translates pretty well to E Ink on the Illumina HD. The homescreen carousel animations are one thing that doesn't work well on E Ink, but you can switch over to library view and avoid the homescreen.
Page turn animations are another thing that doesn't translate well with the refresh rate of E Ink. There seems to be less of a sliding effect with the Illumina HD than the T68, but it's still not as smooth as a typical E Ink ebook reader when turning pages. Text tends to have a slightly rough or faded appearance after several page turns. It's one of those things that comes down to personal preference. The Illumina HD has a hardware button to force a page refresh—that helps clear afterimages and rough or faded text.
Overall, the Kindle Android app works surprisingly well on the Illumina HD, especially considering the app wasn't designed for E Ink devices. Aside from the lack of audio support for audiobooks, all the app's features are functional: adding highlights, notes, activating hyperlinks, shopping the Kindle store, adjusting fonts, looking up words in the dictionary, referencing Wikipedia, running searches, adjusting light brightness, etc.
If you want to find out more information about this device, check out my Icarus Illumina HD review. I've uploaded a PDF review and a general review that covers all the main features, along with the Kobo, Moon+ Reader, Nook, and built-in reading apps.
Icarus Illumina HD Kindle App Video Review