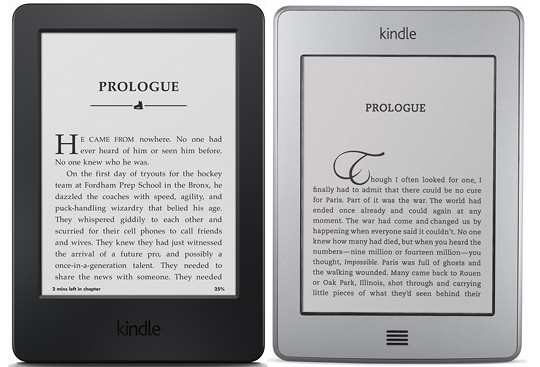 It's interesting to see how technology evolves over the years. Some technologies advance a lot faster than others. Some, like E Ink, seem to evolve at a snail's pace.
The new entry-level $79 Kindle is a good example of just how slow innovation is in the field of dedicated ebook readers and the electronic ink industry.
Three years ago this September 28th, Amazon released their first touchscreen ebook reader, the Kindle Touch, along with their first Kindle Fire tablet.
The funny thing about it is the first Kindle Fire tablet is majorly outdated by today's standards—the new Fire tablets have much better hardware, especially better screens and processors.
But when it comes to the new $79 Kindle, it basically has the same exact hardware as the Kindle Touch from three years ago. In fact you could argue that the new Kindle is a downgrade from the Kindle Touch.
For $20 more, the Kindle Touch offered audio support with a headphone jack and it had surprisingly loud external speakers for listening to audiobooks, music, and text-to-speech. The original Kindle Touch also boasted a longer battery life, and it was available with optional 3G wireless as well.
The new $79 Kindle doesn't support audio, and the color has changed from grey to black, but underneath it's almost the exact same as the Kindle Touch. It uses the same infrared touchscreen, and it has the same exact 800 x 600 resolution E Ink Pearl display. It has the same amount of storage space (4GB) and the overall dimensions are almost identical. Update: It's still unclear which screen tech the new Kindle Touch uses; Amazon's US site says Pearl, but on other Amazon sites it says Carta…
One advantage the newer model has from a hardware perspective is a faster processor. The older Kindle Touch had an 800MHz processor and the newer model has a 1GHz processor.
Aside from that, it's basically the same device in a new shell. It's interesting just how different the pace of progress has been for E Ink ebook readers compared to tablets over the past three years.
Just think, three years from now, Amazon could be re-releasing a budget version of the Kindle Voyage for around $99. That would be pretty sweet :).