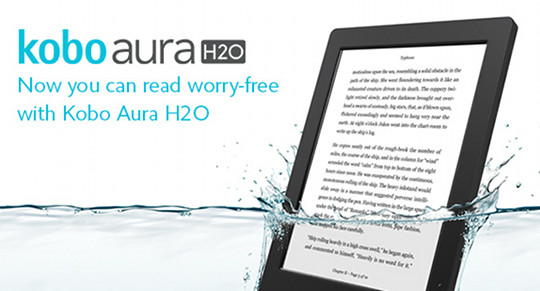 As of yesterday, October 1st, the new Kobo Aura H2O ebook reader is now officially available for purchase online at Kobo.com and from some retail stores.
In Canada, the Aura H2O is available from Indigo, Best Buy, and Future Shop. It's also available in Italy, Germany, and the Netherlands from retailers on this list. In the UK, Argos is expected to be getting some in shortly. The Aura H2O will be arriving in France and Spain soon as well.
Kobo has no retail partners in the US anymore, so Kobo's website is the only option. Sometimes you can get them through select indie bookstores but it's really hit or miss finding any that carry Kobo ereaders.
Pre-orders started shipping on September 29th. At least that's what one would assume. Kobo doesn't actually provide any shipping information or a tracking number, but they did send an invoice that indicates the Aura H2O is on the way, with 7-10 day ground shipping.
I ordered one to review and figure it will get here sometime next week, which is good timing since new Kindles are arriving today.
It will be especially interesting comparing the Kobo Aura H2O with the Kindle Voyage when it gets released on October 21st. This is going to be a fun month full of reviews and comparisons with all these new ereaders arriving!