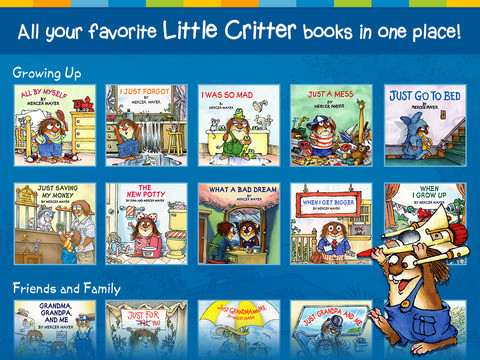 Oceanhouse Media recently launched an ebook subscription service designed for young children ages 2-5.
The app is exclusive to iOS and grants access to a library of Little Critter ebooks by Mercer Mayer. The app is called Little Critter Library and is available in the Apple app store.
The books are fully interactive storybooks. Interactive elements include highlighted narration, tappable words and pictures to see and hear them read aloud, you can record custom narration for each story and share it with others, and there are mini games included within each book, such as finding hidden creatures placed on each page.
The Little Critter Library app also contains a section for parents that tracks reading statistics with information about books read, hours read, pages flipped, and words tapped.
There are three rates for subscription. You can choose between paying $2.99 per month, $17.99 per year, or $34.99 one time purchase. There's also a free 7-day trial.
Once subscribed, the Little Critter Library apps gives kids unlimited access to dozens of Mercer Mayer titles, including "All By Myself", "I Just Forgot", and more. New titles are added periodically.
This adds to a growing number of ebook subscription services that have been launching over the past year. Other kid-friendly ebook services include Reading Rainbow, Epic, and Amazon's Kindle FreeTime Unlimited.
via: DBW