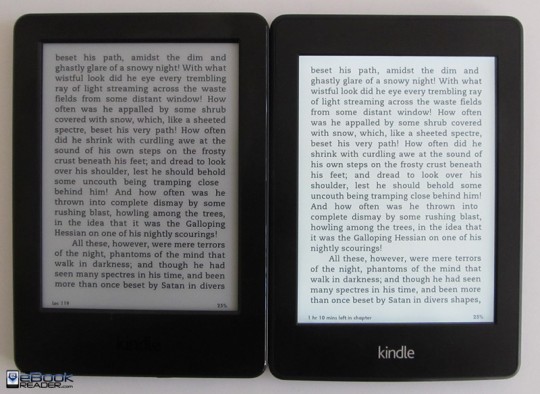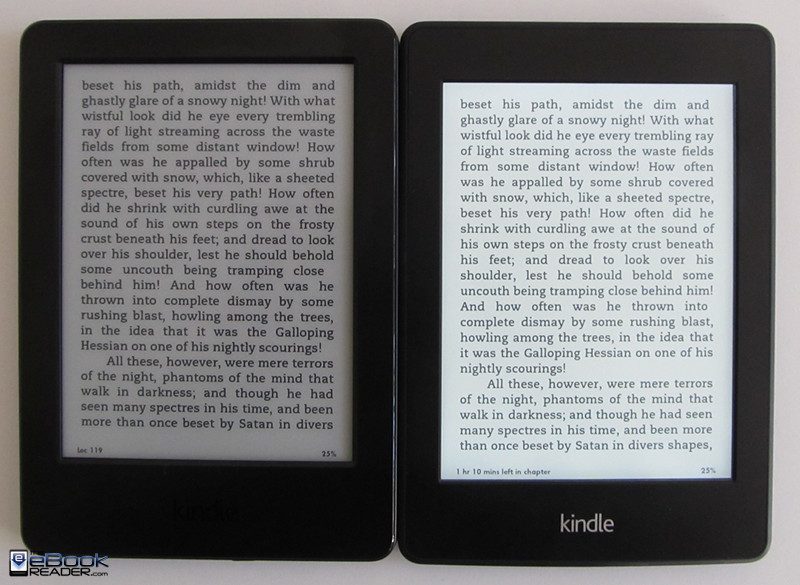 When it comes to comparing the Kindle Paperwhite with the new $79 entry-level Kindle that was released at the beginning of October 2014, the differences all come down to hardware.
Both devices run the same exact software, and offer all the same Kindle reading features and settings from a reading perspective.
The Kindle Paperwhite and $79 Kindle are also equipped with the same exact 1GHz processor, and have the same amount of RAM and storage space (256MB, 4GB). So speed and overall performance between the two ebook readers is also identical.
Main Differences: Paperwhite vs $79 Kindle
There are five main differences between the Kindle Paperwhite and the entry-level $79 Kindle.
Frontlight: The Kindle Paperwhite has a frontlight to illuminate the screen for better contrast and for reading in low light; the basic touchscreen Kindle has no light and requires a lamp or reading light when ambient lighting is low.
Screen: The Kindle Paperwhite has a higher resolution screen (1024 x 758 vs 800 x 600 for the $79 Kindle). This helps make text and fine details clearer. The Paperwhite also uses a newer E Ink Carta screen that improves contrast and tends to have a lighter and slightly yellower tone than Pearl screens found on the basic Kindle.
Battery: According to the estimated battery life specs that Amazon gives, the Paperwhite's battery can last up to 8 weeks per charge, based on half an hour of reading each day, whereas the $79 Kindle is rated up to only 4 weeks per charge.
Design: The overall design of the Kindle Paperwhite is more aesthetically appealing, and it feels more comfortable to hold. The back has a soft-textured coating and the edges are rounded. The basic Kindle has a blockier design and the plastic casing feels cheap.
Price: The basic Kindle is $79 for the Special Offers model and $99 for the non-ad model. The Kindle Paperwhite sells for $119 with ads and $139 without; add $70 for the 3G models.
Minor Differences: Paperwhite vs $79 Kindle
There are a few minor differences as well:
Size: The new Kindle is a about half an ounce lighter than the Kindle Paperwhite, but the overall dimensions are slightly larger and it feels a lot bulkier. Weight: 6.7 oz vs 7.3 oz. Dimensions: 6.7″ x 4.7″ x 0.40″ vs 6.7″ x 4.6″ x 0.36″.
Touchscreen: The Kindle Paperwhite as a capacitive touchscreen and the $79 Kindle has an infrared touchscreen. Both offer pinch-zooming and effectively work the same, so not much difference there, other than the screen is more recessed to accommodate for the infrared sensors.
3G Wireless: The Kindle Paperwhite has the option of 3G wireless, whereas the basic Kindle is Wi-Fi only.
More comparison info between these two Kindles and all the other models past and present can found on the Kindle Comparison Table.
Video Review: Kindle Paperwhite vs $79 Basic Kindle