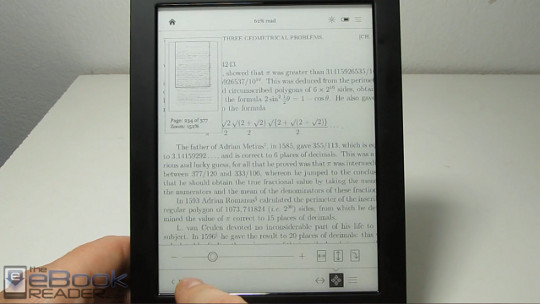 The Kobo Aura H2O is mainly an ePub and Kobo ePub (.kepub) ebook reader, but it also supports PDF files as well as CBR and CBZ comic files.
When it comes to PDFs and comics, Kobo ereaders don't offer a lot of features but they do offer enough to be functional. A tablet or something like the Onyx Boox M96 with its 9.7-inch E Ink screen are a lot more suited for PDFs, but the Kobo Aura H2O offers some basic features.
Zooming options for both PDFs and CBR/CBZ files include fit-to-width and fit-to-height, and there's a custom zoom dial to increase in increments by percentage from 100 to 300 percent. The zoom level remains when turning pages, and defaults to the top left on each new page. You can rotate the screen to landscape mode as well.
There is no pinch-zooming because the H2O only supports 1-point touch be default, but there is a multitouch patch to enable pinch-zooming on Kobo devices. I haven't tested it on the H2O, however, because it reportedly makes the one-finger light control feature on newer firmware not work (two-finger light control works but it's not as precise).
None of the onscreen features for ebooks like the dictionary, notes, and highlights work with PDFs or comics. There's no PDF reflow either.
You can manually type words in the dictionary to lookup, add bookmarks, and search within a PDF. There's a page dial to navigate by pages and chapters, with a back button and table of contents, and that's about it for features.
Kobo Aura H2O PDF and Comics Video