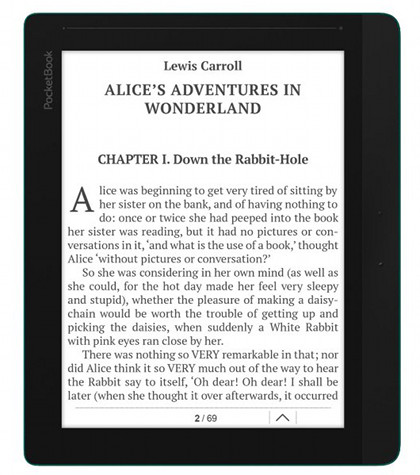 Earlier this year PocketBook announced a new lineup of ereaders, with the 8-inch PocketBook InkPad 840 among them. It was supposed to be released back in July, but there were some unexpected delays and it's just now getting released.
PocketBook has been making ebook readers for many years now, but they are pretty much never available in the US unless you pay a fortune to import them.
But if you live in Russia, the Czech Republic, France, Germany and some other European countries you can get your hands on a PocketBook InkPad.
What makes the InkPad unique is the screen size. It's one of just a few 8-inch E Ink ebook readers. It has a 1600 x 1200 resolution Pearl screen. That works out to 250 ppi. It also has a frontlight, and a flush glass front like the Kindle Voyage, with capacitive multi-touch support.
The design of the PocketBook InkPad is unique too. It has a rubberized strip along the right side of the screen with page buttons.
As far as specs are concerned, it's powered by a 1GHz processor and 512MB of RAM. It has 4GB of internal storage space and a microSD card slot. It has a 2500 mAh battery that lasts up to 4 weeks, Wi-Fi, and it supports MP3 audio files and text-to-speech via a 3.5mm headphone jack. The InkPad measure 195.5 x 162.8 x 7.3 mm and weighs 350 grams.
Like other PocketBook ereaders, the software supports Adobe DRM for ePub and PDF, and it also supports DRM-free EPUB, PDF, DJVU, FB2, FB2.ZIP, DOC, DOCX, RTF, PRC, TCR, TXT, CHM, HTM, and HTML files. Reading programs include FBReader and Adboe Reader.
A few non-English reviews have started showing up online for the PocketBook InkPad. There's a preliminary Czech review at EbookExpert.cz and there are some early user reports at MobileRead. Below are a couple of videos showing the InkPad in action, with size comparisons with smaller ereaders.
Pocketbook InkPad Preliminary Review
Pocketbook Inkpad Hands-On @ IFA 2014