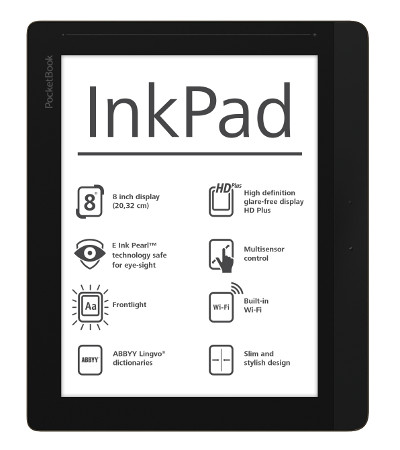 PocketBook revealed a line of new ebook readers for 2014 this past week, including the PocketBook Aqua, PocketBook Ultra, and PocketBook CAD Reader. Possibly the most interesting of the bunch is the PocketBook InkPad 840.
What makes the PocketBook InkPad so interesting is the screen that it uses. It's not the first 8-inch ebook reader, but it is the first 8-inch ebook reader to use a high resolution 1600 x 1200 E Ink screen.
Most other 8-inch ebook readers, such as the Cybook Ocean, have 1024 x 768 resolution screens. That's a difference of 90 pixels per inch, so it's quite an improvement.
The screen that PocketBook is using isn't new exactly; in fact last year's PocketBook Color Lux used the same display, E Ink's color Triton 2 screen technology. This time they are using it sans color. Color E Ink requires using more pixels to create pigment, so by removing the color filter resolution is increased considerably.
The PocketBook InkPad also comes with a frontlight to brighten the screen. Other features include Wi-Fi, a capacitive touchscreen, 1 GHz processor, 512MB of RAM, 4GB of internal storage, and there's a microSD card slot. The device supports audio too. There's a 3.5mm headphone jack and external speakers for playing MP3s and using the text-to-speech function.
The device weighs 350 grams and the overall dimensions are 195.5 x 162.8 x 7.3mm. It has a beefy 2500 mAh battery that can provide up to one month of battery life.
Like PocketBook's other ebook readers, the software is based on Linux. Supported formats include Adobe DRM for ePub and PDF, and it also supports DRM-free EPUB, PDF, DJVU, FB2, FB2.ZIP, DOC, DOCX, RTF, PRC, TCR, TXT, CHM, HTM, and HTML files.
The PocketBook InkPad 840 is expected to start shipping in Russia this coming July for 9990 rubles. The device will also be available in Germany starting in June for the suggested retail price of 189 euros—that equates to about $260 US.