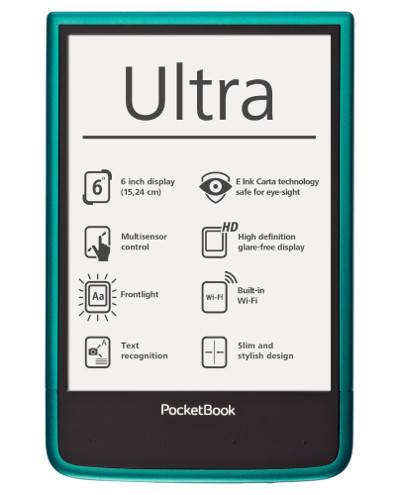 Among PocketBook's new line of ebook readers for 2014 is the PocketBook Ultra. The new device has some unique features, most notably it's the first E Ink ebook reader to have a built-in camera.
PocketBook plans to release the PocketBook Ultra in late June 2014. The retail price is set at 8990 rubles in Russia—which translates to about $265 US dollars.
The PocketBook Ultra comes equipped with a 6-inch 1024 x 758 resolution screen, and it uses the latest Carta displays from E Ink for improved contrast and refresh rates. The Ultra also comes with built-in LED frontlights to better illuminate the screen at night.
Other key specifications include Wi-Fi, multi-touch capacitive touchscreen, 1GHz processor, 512 MB of RAM, 4GB of internal memory, microSD card slot, and audio support for MP3s and text-to-speech via a 3.5mm headphone jack.
The most unique feature, though, is the inclusion of a 5MP rear camera. There's even an LED flash and autofocus. Pictures can be set as screensaver images, or uploaded to Dropbox, or transferred to a computer. The camera can also be used to read and recognize bar and QR codes. And the built-in software can even recognize text in images and can convert it into editable formats.
Another interesting detail, the page buttons are located on the back of the device instead of the front.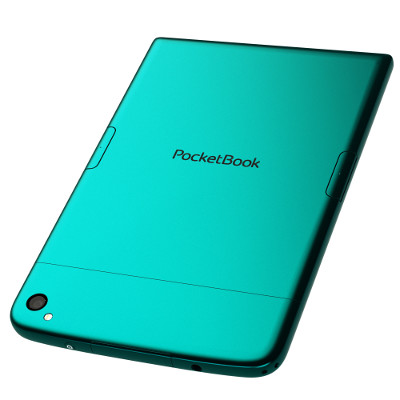 The PocketBook Ultra weighs 175 grams and the dimensions are 162.7 x 106.7 x 7.9mm.
The device is available in three colors: emerald green, white and dark brown.