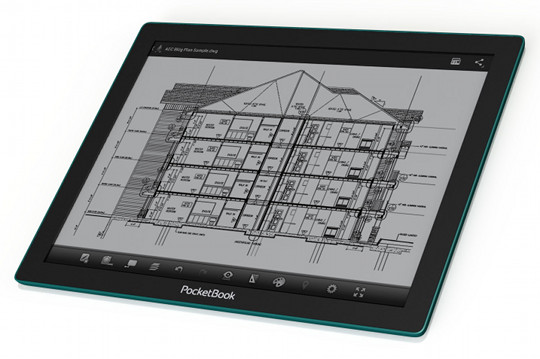 There is some interesting news coming out of E Ink and PocketBook today. E Ink has just announced the upcoming release of a new screen technology called E Ink Fina, and PocketBook is going to be the first company to use it in their new PocketBook CAD Reader, which is designed specifically for displaying drawings generated with Autocad from Autodesk.
So the good news is the PocketBook device runs Android 4.0.4 and has a 13.3″ E Ink screen, a dual-core 1GHz processor, 2GB of RAM and 16GB of storage space. The bad news is it's not an ebook reader, it's a CAD Reader.
Like the Mobius screens that E Ink built collaboratively with Sony that are being used on Sony's DPT-S1 PDF reader, the Fina screens measure 13.3″ diagonally and have the same 1600 x 1200 pixel resolution. But instead of using the more durable plastic backplanes, Fina still uses glass like current E Ink screens such as Pearl and Carta.
Here's what E Ink has to say about the new Fina screen tech:
Fina is a glass based TFT technology that uses a very thin glass substrate to deliver products that are much lighter and thinner than what is possible with standard LCD displays. Fina displays weigh less than 50% of the weight of an equivalent glass based TFT and are less than 50% of the thickness as well. This is particularly important for mobile products requiring larger display areas. A 13.3″ Fina display module, installed in the Pocket CAD Reader, weighs approximately 60 grams.
As for the PocketBook CAD Reader, it has WiFi and 3G, an 8000 mAh battery, and the screen supports both touch and stylus use with the Wacom digitizer.
Here's what PocketBook has to say about the CAD Reader:
"Our goal was to develop a device to be used on construction sites. We created a highly portable large format display device with a rugged and moisture proof case that could hold all the CAD drawings a team needs. This makes designs available virtually any place and any time," – said Dmitriy Shemet, head of research and development at PocketBook. "We chose the E Ink Fina 13.3 inch display because it has exactly the right properties we were looking for to develop PocketBook CAD Reader. The PocketBook CAD Reader delivers a new user experience for architects and specialists in construction trades allowing them to work on site".
The PocketBook CAD Reader will be on display at the Autodesk University software conference being held in Las Vegas on December 5th.
via E Ink