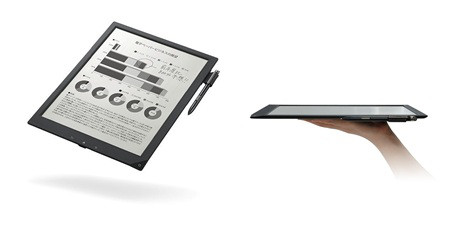 There's been a lot of hype surrounding Sony's new large-screen PDF reader ever since the prototype first showed up online in videos and at press events.
What makes it so compelling is the large 13.3-inch A4-size screen that Sony and E Ink worked together to build. The new screen tech is called Mobius, and unlike current ebook readers on the market, it uses a plastic substrate instead of glass, which makes the product much lighter and more durable.
Today Sony Japan published a press release with some new information about the device. Unfortunately the details are going to squash the dreams of many. But things can change; let's hope that they do. The translation from Japanese to English reads very awkwardly, so keep in mind some of the finer details are hard to grasp.
The good news is Sony looks to be on track to start selling their new large-screen ereader. It now has a name, Digital paper "DPT-S1". It also has a release date of December 3rd, 2013, exclusively in Japan. The bad news is Sony appears to be focusing entirely on the business and education market.
That means it's going to be expensive. Really expensive. The press release mentions 98,000 yen as an estimated market price, which equates to about $1000 US. They also mention price depends on a number of factors and services provided, so it's hard to say if that would be close to the actual price if it were ever made into a consumer product.
Right now it sounds like Sony has no interest selling it as such, so unless you are the head of some university or business in Japan looking for a PDF reader to replace paper usage, this announcement and device isn't going to mean much at this stage in the game. But at least it's progress, right? Maybe some day a large-screen epaper ereader will become available to the masses.
Main specifications for Digital paper "DPT-S1":
13.3-inch flexible electronic paper display (resolution 1200 × 1600 pixels) with 16-level gray scale.
Electromagnetic touchscreen with stylus input.
4GB internal memory; 2.8GB usable.
MicroSD card slot.
Micro USB port.
Supported formats: PDF.
Wi-Fi 802.11b/g/n, 2.4GHz band.
Lithium-ion battery.
Battery Life: 2-3 weeks; 24k page-turns.
Dimensions: About 233 x 310 x 6.8 mm.
Weight: About 358 grams.
via: MobileRead