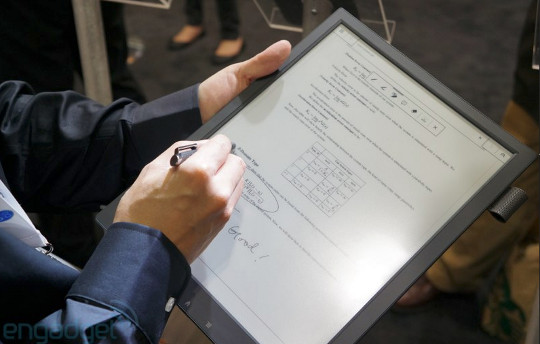 Earlier this month Sony revealed that they are planning on releasing a trial run of a new PDF reading device later this year in Japan that uses a 13.3″ Mobius E Ink screen.
Sony's device is the first to use a Mobius display, and that's because Mobius was co-developed by Sony and E Ink in an effort to bring large-form content, especially PDFs, to an E Ink screen that is big enough to display A4-sized documents.
The screen technology is monochromatic and is very similar to the E Ink screens used on ebook readers like the Kindle and Nook, but unlike those screens Mobius uses a plastic-based substrate instead of glass so that the displays are lighter and much more durable. In fact the screens are so durable they are flexible, thanks to the plastic backing.
Sony's prototype weighs in at 358 grams and is 6.8mm thick. For a 13.3″ device those numbers are impressive. By comparison the 9.7″ Apple iPad weighs 652 grams and is 9.4mm thick. The 9.7″ Kindle DX, which is no longer being made, weighs 536 grams with its glass-based E Ink screen and is 9.65mm thick.
Battery life for Sony's digital notepad prototype is said to be around 3 weeks. The display resolution for the Mobius screen is 1200×1600. The device also has an electromagnetic touchscreen for adding notes and highlights with a stylus.
Engadget posted a brief hands-on with Sony's new prototype at SID with a bunch of pictures and a video that shows the device in action.
The second video below from DigiInfo shows Sony's new device as well. You can see how note-taking works in this video; the touchscreen appears to be surprisingly accurate for writing text notes.
I wonder if Sony's prototype runs Android like the newer Sony ebook readers; it looks like it might from the interface and buttons below the screen. That certainly could open up the door to some hacking and bonus features.
Sony 13.3-inch E Ink Protoype Hands-on – Engadget
Sony A4-sized Digital Paper Notepad – DigInfo