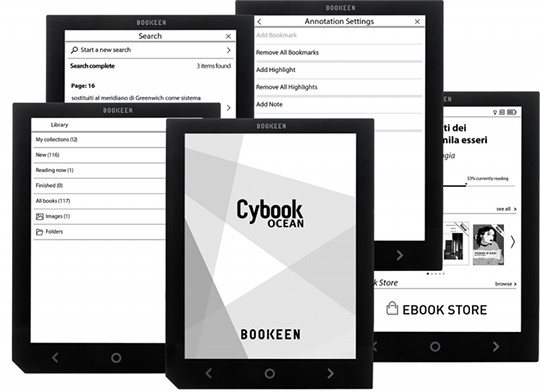 Bookeen had their latest ebook reader, the Cybook Ocean, on display last weekend at the Paris Book Fair. The device showed up in a few YouTube videos and on some European blogs for the first time since it was announced last year.
The release of the Cybook Ocean has been delayed over the past few months, and now Bookeen is proud to show it off. And you can see why with its super-thin design and generous 8-inch display.
Bookeen set a tentative release date of sometime between mid-May and mid-June. The Ocean will sell for 179 euros. Like other Cybook ereaders, it will likely only be available for purchase in Europe. But you never know, it could be available for import in other parts of the world at some point.
According to Bookeen's Blog, the Cybook Ocean will be available for pre-order within a few weeks on their website. Here's the link to the product page.
What makes the Cybook Ocean interesting is the 8-inch 1024 x 768 resolution screen. Most ebook readers have 6″ screens, and even the slightly-larger Kobo Aura HD only has a 6.8″ screen. Devices with 8″ screens are much less common, even among tablets. There are a few ebook readers with 8-inch screens (a long time ago I reviewed the iRex DR-800 with the same size and resolution screen as the Cybook Ocean and the larger size was quite nice).
The second thing that makes the Cybook Ocean stand out it is how thin Bookeen managed to make it. The device is only 7mm thick, which is just over a quarter inch. That's impressive. Even with the cover on it looks incredibly thin in the video below.
The Cybook Ocean has some other interesting features too, including a frontlight, memory card slot, and WiFi. Here's the entire list of specs and features for the Cybook Ocean, followed by a couple of YouTube videos in French:
Cybook Ocean Specs and Features
8″ E-Paper Screen
Resolution: 768 x 1024 px
DPI: 160
16 greyscale levels
Touchscreen: capacitive multi-touch
CPU: Cortex A8 TIOMAP3611 (800 MHz)
RAM: 128 Mo LP DDR
Invisible light guide film
Anti-glare treatment
Touch & Frontlight interface management
Battery: 2100 mAh
Week of battery life (depends on Wi-Fi & FrontLight usage)
"Flatview" design
Dimensions: 196 mm x 150 mm x 7 mm.
Weight: 300 g.
Capacitive buttons for turning page & menu/FrontLight
Storage: 4 Go iNAND approx 4000 ebooks
Expansion slot: MicroSDHC up to 32 approx 32,000 eBooks
MicroUSB 2.0 for transferring file and charging
User interface available in 24 languages
Web Browser WebKit Based
OS: Linux 2.6.31
Software features: Notes / search / bookmarks / highlights / line spacing / margin / dictionaries (depends on languages) / 20 font sizes / personalization screensaver mode / PDF management tool / classification folder and collection / over a hundred of books
High Speed Ink System (HSIS)
Wi-Fi (802.11b/g/n)
Supported ebook formats: ePub, PDF Adobe DRM, HTML, Txt, FB2, DJVU
Picture formats: JPEG, PNG, GIF, BMP, ICO, TIF, PSD
Cybook Ocean Hands-On Videos (French)