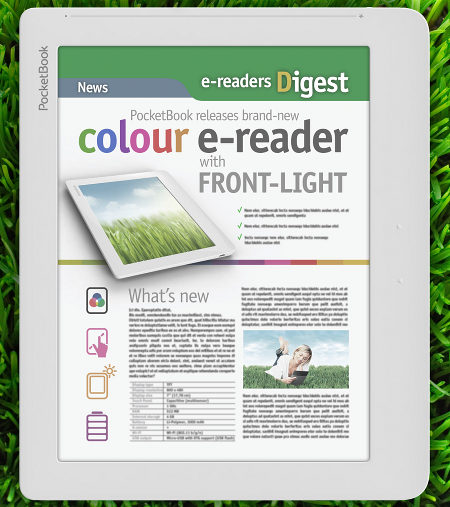 Today PocketBook announced that they've got a new ebook reader in the works that uses a color E Ink screen combined with a frontlight.
A few prototypes of color E Ink screens with frontlights have made cameo appearances in video interviews with E Ink, so it was just a matter of time before a company decided to give it a try. So far color E Ink hasn't been very successful because it requires high ambient light on the screen for decent coloration, otherwise colors appear dim and washed out. Hopefully the frontlight can solve that problem.
But that's not the only hurdle PocketBook's new ebook reader needs to overcome to be successful. Given the early specs of the screen, there's some question as to how it will stack up to newer ereaders like the Kindle Paperwhite and Kobo Glo that are using high-res 1024×758 E Ink screens.
According to the press release, PocketBook is using a second generation E Ink Triton display. But unlike previous models that use 9.7″ screens, PocketBook is using an 8-inch Triton display. It supports 4096 colors and has a resolution of 800×600, which equates to 125 pixels per inch, or about 87 less ppi than the Kindle and Kobo. Not only that but it uses a capacitive touchscreen, which are known to slightly degrade screen clarity.
Don't take the picture above as an accurate representation. Companies always modify product images to look better. I wouldn't be surprised if the entire image is fake; the grass in the background certainly is.
I guess we'll have to wait and see what it looks like in person when it's released to know for sure how the screen is going to stack up. Unfortunately it's unlikely that I'll ever get the opportunity since PocketBook has seemingly withdrawn from the US market entirely.
On the positive side we know that it's going to have PocketBook's advanced firmware that is PDF friendly and provides support for a laundry list of formats.
PocketBook's new reader with a color E Ink screen and frontlight is expected to enter the CIS market in June 2013.