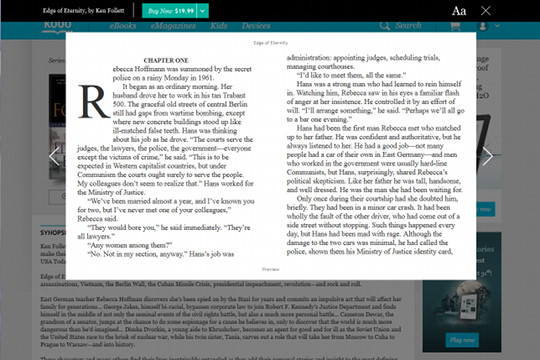 Kobo has recently started to rollout a new feature on their website that lets anyone preview an ebook using a web browser directly from the ebook description page.
You don't have to be logged in or even have a Kobo account to view the previews. All you have to do is click the "Preview Now" button and a window will open up to display the contents of the ebook.
The ebook previewer allows users to adjust font size and choose one or two column view. You can view the front portion of the book and read the first couple of chapters.
You can still save the previews the regular way to download to a Kobo device or app as well. The online preview just adds an easier, quicker option.
Most ebooks have the preview now option, but not all of them.
Amazon offers the same kind of feature where you can "Look Inside" the first few chapters of a book, so it's not surprising to see Kobo replicating the feature. Now if they could just get some ebook reviews going….