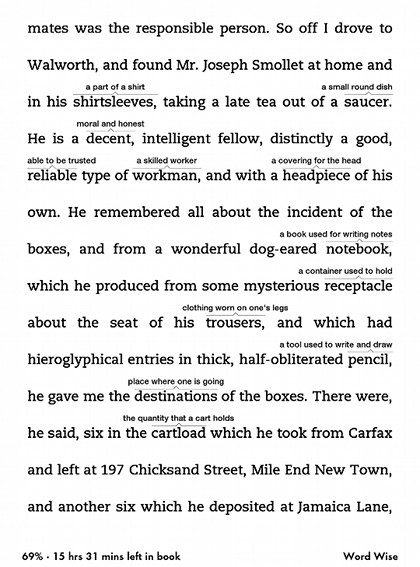 One of the new features that Amazon introduced with the latest software update for the Kindle Voyage, Kindle Paperwhite, and entry-level Kindle is something called Word Wise.
Word Wise is designed to make reading challenging books easier, especially for kids, by displaying short definitions above difficult words while reading. Tapping on a word brings up a window with a short definition, and sometimes alternate meanings and synonyms.
Tapping on the Word Wise symbol on the lower left of the screen brings up a dial that allows you to adjust the amount of hints that appear on the screen while reading. You can also toggle Word Wise on and off by selecting Show or Hide.
As you can see from the screenshot above, with the hint dial set to max it gives a lot of suggestions. Some of them are incredibly simple, like saying a pencil is a tool used to write and draw and a notebook is a book used for writing notes.
Setting the slider to show less hints makes it so only more difficult words show suggestions.
To accommodate for the inline explanations above words, line spacing is maxed out and you cannot adjust it while Word Wise is enabled, the option gets grey out.
Word Wise can be turned on and off in the settings menu under Reading Options. You can also access it directly from the menu list when reading.
When the option is turned on the percentage read meter moves to the bottom left of the screen next to the reading progress indicator and a Word Wise label gets placed there to access the slider bar. Turning off the option in settings makes it so the percentage read goes back to the right corner.
Word Wise is available on select English language titles and works with the Kindle Voyage, Kindle Paperwhite 2, and $79 Kindle.
Currently Amazon lists 3,555 Word Wise enabled ebooks. There are a number of freebies that you can download to test the feature if you want to see Word Wise in action.
Here are a few free classics with Word Wise enabled: