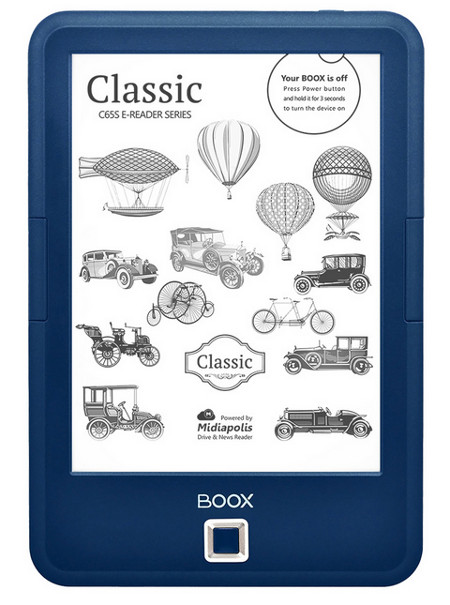 The folks at Arta Tech have released another new Onyx ebook reader a week after introducing the Onyx Boox AfterGlow 2.
The new ereader is a simple no-frills device called the Onyx Boox Classic. It is somewhat comparable to the old basic Kindle that Amazon recently stopped offering in favor of the new touchscreen Kindle for 2014.
The Onyx Boox Classic has a 6-inch 1024 x 758 E Ink Pearl screen, which is an upgrade over the basic Kindle and new $79 Kindle.
It lacks a touchscreen and a frontlight, and it runs an older version of Android and doesn't come with Google Play like the more expensive Onyx ereaders—most Android apps aren't going to work well without a touchscreen anyway so that's not surprising.
Unlike the AfterGlow 2 and the T68, the Onyx Boox Classic is meant to be a basic ereader and that is reflected in the price. It costs just 69 euros, which is equivalent to about $85 US dollars.
The Onyx Boox Classic is navy blue instead of the usual black. It comes with 4GB of storage space and includes a microSD card slot for further expansion. It's main supported formats are ePub and PDF, and it supports Adobe DRM.
Onyx Boox Classic Specs
6" inch E Ink Pearl display.
1024 x 758 pixel resolution (212 dpi).
Android 2.3 OS.
Processor: Freescale i.MX Cortex A8 1.0 GHz.
512 MB RAM.
4GB internal storage space.
MicroSD card slot (up to 32GB).
MicroUSB 2.0.
Wi-Fi (802.11b/g/n).
Pre-installed apps: Library, Cloud (Midiapolis Drive), News (Midiapolis News Reader).
Supported formats: EPUB and PDF (reflow) with Adobe DRM (ADEPT), MOBI (without DRM), TXT, RTF, HTML, DOC, FB2, DjVu, ZIP; Images: JPG, GIF, PNG.
Battery: up to 8 weeks; 1700mAh Li-Polymer.
Dimensions: 170 x 117 x 8.7mm.
Weight: 210 grams.
The Onyx Boox Classic appears very similar to the Onyx Boox C65HD that is being offered on Banggood, except it has a capacitive touchscreen and costs $109.