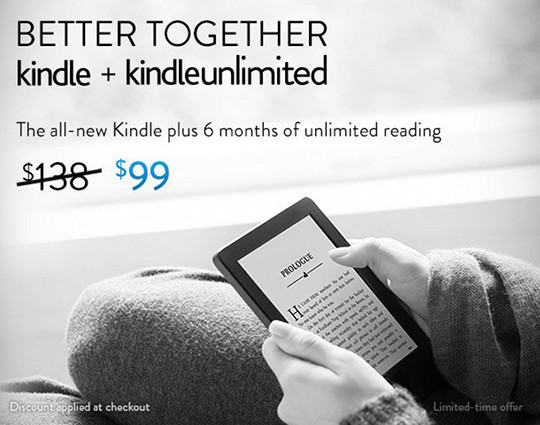 Today I noticed Amazon offering a new promotion where they are bundling six months of Kindle Unlimited at a discount with the purchase of certain Kindle ereaders and Fire tablets.
Kindle Unlimited is Amazon's new ebook subscription service that they first started rolling out this past July in the United States, and then in the UK and Spain in the months to follow.
Basically Kindle Unlimited provides access to a library of over 700,000 ebooks and several thousand audiobooks for $9.99 per month. You can read as many ebooks as you want on any Kindle device or Kindle reading app, and have up to ten downloaded at one time.
This is the first time that Amazon has offered any kind of bundle discount for Kindle Unlimited.
The way it works is you get $30 to $40 off the overall price when purchasing select Kindle devices. The promo can be purchased as a gift as well. The discount gets added upon checkout. It's a limited time offer and is only being offered in the U.S.
The devices being offered, pricing and savings break down like this:
Kindle + 6 months of KU for $99 (save $39.94)
Kindle Paperwhite + 6 months of KU for $149 (save $29.94)
Fire HD 7 + 6 months of KU for $169 (save $29.94)
Fire HD 6 + 6 months of KU for $129 (save $29.94)