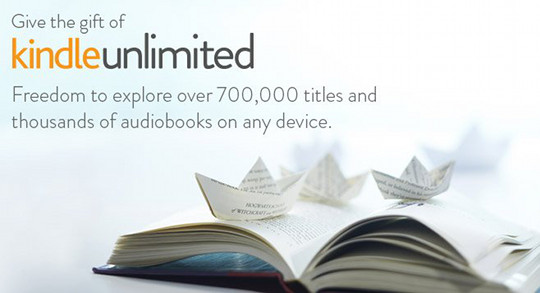 Unlike most major ebook retailers, one good thing about Amazon is how easy they making giving Kindle books as gifts.
They even make it super easy to give Kindle Unlimited as a gift, Amazon's new ebook subscription service where users get unlimited access to a library of over 700,000 ebooks and several thousand audiobooks for a monthly fee.
Most Kindle ebooks that are sold on Amazon can be given as gifts. Pre-orders and free ebooks are the exception, so are digital magazines and newspapers.
Gifted Kindle ebooks can be read on any Kindle ereader, Fire tablet or Kindle reading app. You don't have to own a Kindle device to send or receive Kindle books as gifts.
Note that the recipient of a Kindle gift book or Kindle Unlimited service plan can choose to exchange the gift for a regular Amazon gift card of the same value.
How to Give Kindle eBooks as Gifts
Here's how you purchase a Kindle ebook to give as a gift:
Find the book that you want to give as a gift on the Kindle Store.
From the book's product details page, click the "Give as a Gift" button from the buy box on the right (if there is no "Give as a Gift" button available then the particular title cannot be gifted).
On the gift giving review page, you can enter the email address of the recipient and the date that you want it delivered. Or you can choose to send it to your own email address to forward the gift email later or print it out to give in person.
Like regular gift cards from Amazon, you have the option of adding a personalized message to the delivery email for the gifted Kindle book.
Click the Place your order button to finish.
Gifted Kindle books can be redelivered if need be by going to Your Digital Orders in Your Account and clicking the Resend eMail button from the Order Summary page.
How to Give Kindle Unlimited as a Gift
Like Kindle ebooks and devices, Kindle Unlimited can be given as a gift too.
A few details to note: the recipient will receive the gift email on the date you select; the recipient can choose to exchange it for a regular Amazon gift card of the same value; after activation, you cannot get a partial refund for remaining time if canceled; if the recipient already has a Kindle Unlimited account, the gift will be added to their current subscription and they won't be charged again until the subscription runs out.
Here's how to give a Kindle Unlimited subscription as a gift:
Go to the main Kindle Unlimited gift giving landing page.
From there you have the option to select a membership duration period of 6 months, 12 months, or 24 months. A subscription costs $9.99 per month and there are no price breaks for buying a longer membership.
Choose to add Kindle Unlimited to your cart like a regular purchase, and then when you proceed to checkout you'll be directed to a gift options page where you enter the recipient's email address and the delivery date.
You can add a personalized message to the delivery email as well.
Click Continue to proceed through checkout.