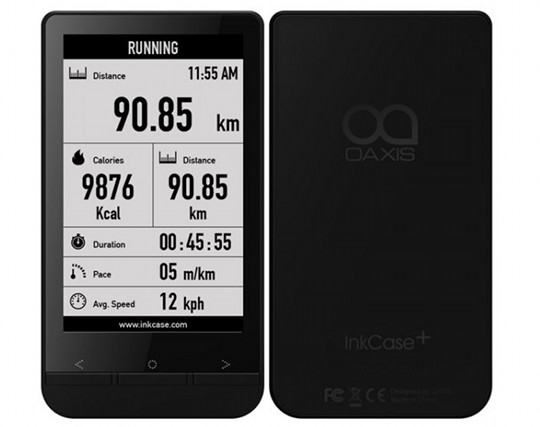 This past summer Oaxis started a kickstarter campaign to raise money for the InkCase Plus, a 3.5-inch E Ink device that pairs with smartphones to use as a secondary display. Oaxis's campaign efforts were quite successful; they achieved their funding goal in just 3 hours.
And now they've finalized production of the InkCase Plus and pre-orders are currently underway.
Available via FirstGrabber, the InkCase Plus costs $89. Pre-orders continue through December 23rd.
The InkCase Plus is the 2nd generation InkCase and is a standalone device with a 3.5-inch E Ink screen and a resolution of 360 x 600. That works out to a respectable 200 ppi. It weighs 45 grams and battery life is estimated at 19 hours of continuous use. The device has page buttons and a home key, but no touchscreen or frontlight.
The InkCase Plus communicates with Android phones via Bluetooth using specialized Android apps and can display things such as ebooks, notifications, emails and messages, photos, and you can use it to receive incoming calls and manage music controls.
The device supports Bluetooth 2.1 and works with Bluetooth-enabled Android smartphones running Android 4.0 and up.
There's also a product called the FitCase that goes along with the InkCase Plus. It's a protective case that incorporates the InkCase Plus into the front cover while housing the smartphone. Apparently the FitCase isn't available yet, however, as there's no mention of it anywhere.
Oaxis claims that the InkCase helps improve a smartphone's battery life by allowing you to push pictures, notifications, and ebooks to the InkCase Plus, along with to-do-lists, coupon printouts, boarding passes, maps, and more.
InkCase Plus Specifications
3.5″ E Ink display
360 x 600 display resolution
200 dpi
3.7V 400mAh battery
Bluetooth 2.1
32MB memory
Supports Android 4.0 and above.
Dimensions: 106.4 x 58.1 x 5mm
Weight: 45 grams
Below is an early review of the InkCase Plus found via YouTube.
InkCase Plus Video Review