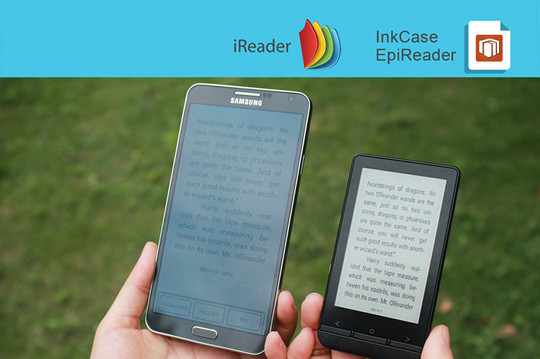 Oaxis is coming out with a new E Ink phone case called the InkCase Plus that works as a secondary screen with all Bluetooth-enabled Android smartphones running Android 4.0 and up.
Yesterday Oaxis launched a kickstarter campaign to raise funding for the InkCase Plus with a goal of $100,000. It only took 3 hours to hit that number; now a day later the total has risen to over $145,000 with over 900 backers.
The InkCase Plus is the second generation model from Oaxis; the original InkCase was limited to just a few smartphones and had to be attached to the back of them. The new model is a lot more versatile. It works with a wide variety of Android phones by using a cover called the FitCase, a leather case that is designed to hold the phone as well as the InkCase Plus.
The FitCase also allows you to flip the E Ink screen to face either outward or inward. You can remove it from the case entirely to use separately as well.
The E Ink screen communicates with the phone via Bluetooth and can display anything from ebooks to emails, notifications, messages, photos, and you can even use it to receive incoming calls.
The InkCase Plus has a 3.5-inch E Ink screen with a resolution of 360 x 600 (200dpi). The 500mAh battery gives the InkCase enough juice to last up to 3400 pages of reading, or 19 hours of continuous use, and 7 days on standby.
If everything goes to plan, Oaxis anticipates starting to send shipments to backers in October 2014.
InkCase Plus Specifications
3.5″ E Ink display
360 x 600 display resolution
200 dpi
16 shades of grayscale
3.7V 500mAh battery
Bluetooth 2.1
32MB memory
Supports Android 4.0 and above, better for above Android 4.3
Dimensions: 106.7 x 58.4 x 5.2mm
Weight: 45 grams