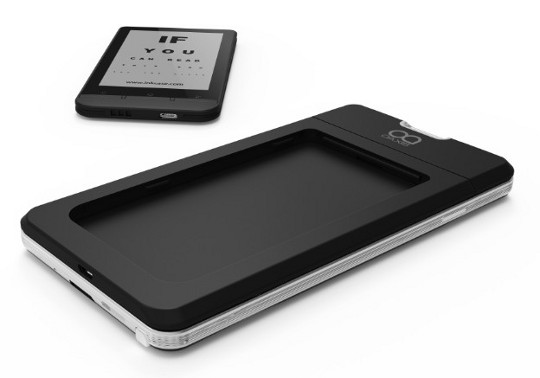 In the recent video tour of E Ink's booth at Computex 2014, we saw a number of E Ink's protoypes and products, but one that was missing was the Oaxis InkCase.
The Oaxis InkCase is a specially-designed smartphone cover that has an E Ink screen. You can pair it with a phone and display content from the phone's screen.
The first generation Oaxis InkCase was designed for the iPhone 5/5S, and the Samsung Note 2 and S4.
But the folks at Oaxis wanted to come up with a way to make their product compatible with more phones, so they developed the InkCase 1.5, which has an E Ink screen that snaps into a larger cover to fit over the phone.
The display can be set to the inside cover or to show on the outside. Battery life is said to be 5 days per charge
The device works through the Oaxis app to transfer content via Bluetooth to the E Ink screen. There's the EpiReader app for ebooks and InkCase Photo for transferring images. There are other features too, including using it for phone calls, playing music, notifications, and fitness tracking with the InkCase Sports app.
Oaxis InkCase Cover for Smartphones