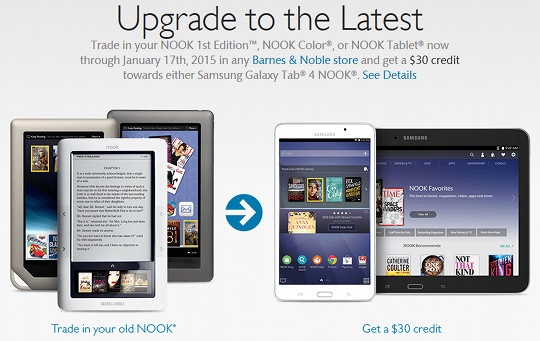 Barnes and Noble has opened the doors on a new Nook trade in program from now through January 17th that lets customers trade in an old Nook for $30 off the price of a Nook-branded Samsung Galaxy Tab 4 tablet.
There are a couple of significant points about the promotion.
First, B&N is only accepting trade-ins on the 1st generation E Ink Nook, the Nook Color, and Nook Tablet.
None of the Nook Touch models are being accepted, which seems a little odd. What added value could the 1st gen Nook have over the Nook Touch?
Second, the terms and conditions say that the old Nook can't be damaged beyond ordinary wear and tear, so that leaves out broken, no longer functioning Nooks.
The $30 trade in applies to both the 7-inch and 10-inch Nook Galaxy tablets. The trade in program is offered at B&N retail stores only.
It's interesting to see how Barnes and Noble values their own products. $30 for the Nook Tablet is pretty pitiful, but that's not bad for the severely outdated 1st gen Nook. Used Nook Colors sell for a little more on places like eBay and Craigslist.
There is one sizable hole in B&N's trade in program, however. It's the fact that the regular Samsung Galaxy Tab 4 tablets regularly sell for up to $30 less at other online retailers. Like right now Amazon is selling them for $20 less than B&N.