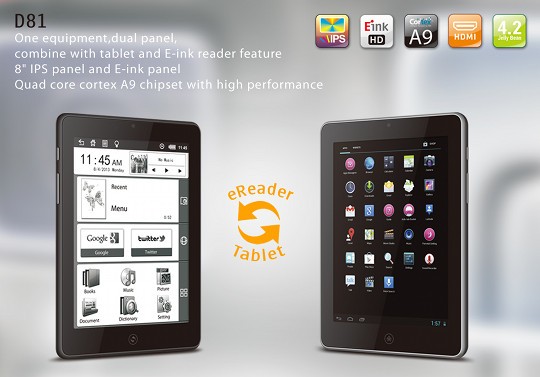 Wouldn't it be cool to have a tablet with an E Ink screen on the back?
That's basically the concept of the Boeye D81. On one side it has an 8-inch IPS display; flip it over and there's an HD E Ink screen on the back.
The device is somewhat similar to the Yotaphone, a dual-screen smartphone with an AMOLED screen on the front and an E Ink screen on the back. And it brings back memories of the ahead-of-it's-time Entourage Edge, and dual screen Alex Reader and original Nook. But the Boeye D81 appears to be the first tablet going down the dual-screen route.
The problem is I'm not sure if the Boeye D81 even really exists or if it's ever going to hit the market.
All that we have to go off is the screenshot above that's on the homepage of the Boeye website. From that we can surmise that the Boeye D81 runs Android 4.2 and has a quad-core cortex A9 processor and an HDMI port, in addition to having dual screens.
Other than that, there is no additional information whatsoever, which makes one wonder if the device even exists or if it's just a prototype at this point.
Naturally I sent an email to Boeye yesterday asking for more information about the Boeye D81, but the response didn't make much sense:
Thanks so much for your interesting, since for some reason, we have not going on this model

Please check our another website: www.boyue.com, we are only make android Ebook reader.
That's not exactly the kind of information I was hoping for, and the referenced website doesn't even list the D81 anywhere, so like most email inquiries about stuff like this it proved to be an act of futility.
Nonetheless, the D81 looks like it could be a cool gadget if it ever becomes available anywhere. I reviewed the Icarus Illumina earlier in the year—it's a rebranded Boyue T61—and it also runs Android 4.2 and works quite well, although battery life isn't very good.
via: MobileRead