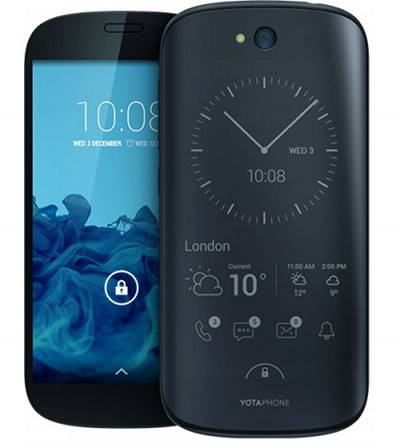 Yota Devices is getting set to release their second generation dual-screen smartphone, called the Yotaphone 2, this week in parts of Russian and Europe.
The Yotaphone is among a new sub-group of devices attempting to bring battery-saving, outdoor readable epaper displays and smartphones together.
Unlike devices such as the InkCase Plus where the E Ink screen is a separate unit that connects with a smartphone via Bluetooth, the Yotaphone is a dual-screen phone that incorporates two different types of display technologies together on the same device at once.
On the front of the Yotaphone 2 there's a 5-inch AMOLED display with a pixel resolution of 1920 x 1080. Flip the phone over and on the back there's a 4.7-inch electronic paper display with a resolution of 960 x 540.
The epaper screen always remains "on" since it doesn't use power to display static images. It works as a secondary display to the AMOLED screen that requires a lot more battery power to run.
You can use the secondary epaper screen to display things like ebooks, emails, weather reports, notifications, games, screenshots, wallpapers, and more. Both displays feature capacitive touchscreens so you can interact with either of them.
The Yotaphone 2 runs Android 4.4 KitKat and features a 2.2GHz quad-core Snapdragon 800 processor with 2GB of RAM and 32GB of storage space. It has an 8 megapixel rear camera with auto-focus and LED flash, along with a 2.1 megapixel front camera.
According to Yota's CEO, the Yotaphone 2's battery can last up to five days in reading mode and up to two straight days using the "economical" energy setting for most standard functions like calling, texting, and reading emails.
The Yotaphone 2 is expected to sell for 33,000 roubles (about $620) when it launches this week in Russia. It is expected to start shipping this month. Yota also intends to release the new device in 20 European nations this year and in China and parts of Asia in early 2015. Canada and Latin America are expected to get access to the device as well, but so far there's been no mention of it entering the US market.
You can find more information about the Yotaphone's specs and availability on the Yotaphone website.
Below is a YouTube video that was just uploaded yesterday with a long and detailed review of the new Yotaphone 2.
Yotaphone 2 Video Review
via: Liliputing