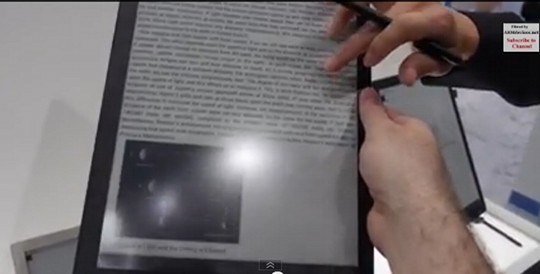 Netronix has a 13.3-inch ereader under development that could be ready for mass production in as little as three months.
Netronix is currently looking for distributors for their ultimate note-taking and document-displaying ereader.
The device runs Android 4.0.4 and is expected to be upgraded to Android 4.4 KitKat. It's powered by a i.MX6 Solo Lite processor, and includes a microSD card slot.
The 13.3-inch E Ink screen has a resolution of 1200 x 1600. It comes equipped with a capacitive touchscreen for finger touch as well as an electromagnetic touchscreen for use with a stylus pen.
The onscreen writing appears to work pretty fast in the video. Page turns are quite zippy with ebooks too (shown about 4:30).
Netronix's 13.3-inch ereader weighs less than 400 grams thanks to the flexible plastic-based display, and the device is only 6.8mm thick.
Hopefully some distributors place large orders for this device and we can start seeing it released later this year. At the right price, it could be good competition for the only other 13.3-inch ereader on the market, the Sony DPT-S1, which sells for a wallet-devouring $999.
PocketBook also has a couple 13.3-inch ereaders in the works, but they've been working on them for over a year and still nothing beyond a prototype has materialized, so hopefully Netronix has better luck getting their device on the market.
Netronix Demos 13.3″ eReader
via: ARMdevices.net