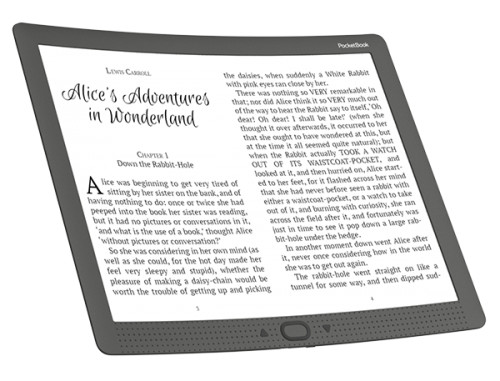 PocketBook has announced what is essentially an updated version of an unreleased device called the PocketBook CAD Reader. The new version is called the PocketBook CAD Reader Flex, and as the name suggests it has a flexible screen and housing.
It was exactly one year ago today when PocketBook first announced plans to develop the PocketBook CAD Reader, a specialized ereading device with a 13.3-inch E Ink display.
The development of the device didn't go as planned, however. Initially it was expected to come with an E Ink Fina display and the software was strictly going to be that of a CAD Reader to display drawings generated with Autocad software.
But according to reports the Fina display ended up being too fragile so PocketBook decided to switch to a Mobius E Ink display instead, which uses a plastic substrate and is much lighter and more durable, even flexible.
The Sony DPT-S1, Sony's specialized PDF Reader, is the only other device using a 13.3-inch Mobius display. It sells for a whopping $999 so hopefully the PocketBook CAD Reader won't cost as much.
PocketBook is presenting the new device this week at the Autodesk University conference in Las Vegas. There's still no mention of an actual release date or price yet, however.
We've got a few specs to go off of but not a whole lot. The overall thickness is just 6.5 mm. That's even thinner than the Sony DPT-S1 at 7.14 mm.
PocketBook claims the device is dust and moisture resistant and that the Mobius screen and rubber housing make it flection-resistant, and that users can stick the device in a bag without worrying about damaging it.
Other specs include a 1600 × 1200 pixel resolution display, a 1.5 GHz dual-core CPU, 512 MB of RAM, and 8GB of internal storage. It has Wi-Fi, Bluetooth 4.0, mechanical page buttons and a five-way controller button for navigation. There is no frontlight or touchscreen.
Earlier the device was said to run Android 4.0, but that was a long time ago—who knows what it will be by the time it gets released.
via: PocketBook