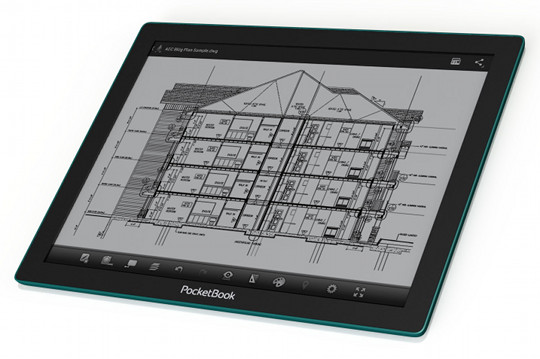 Last December, PocketBook and E Ink announced plans to release a 13.3″ Android-powered E Ink ereader called the PocketBook CAD Reader, a device packaged with Autocad software designed for engineers, architects, and other professionals in the construction field.
When the PocketBook CAD Reader was first announced, E Ink revealed that it would be using a new screen tech called Fina.
But according to a first look review of the PocketBook CAD Reader posted by Mobile Review, a Russian website, PocketBook has decided against using the Fina screen because it has proved to be too fragile. Instead they are going to be using the E Ink Mobius display, the same as the Sony DPT-S1 PDF Reader.
This will make the PocketBook CAD Reader the second device to use a Mobius display.
Both screen technologies are offered in the same 13.3-inch size with the same 1600 x 1200 resolution. The main difference between the two is that the Mobius screens are much more durable because they use plastic backing instead of glass.
If the larger glass-based displays are proving to be too fragile for ereader applications, it makes you wonder if maybe E Ink isn't going to release Fina screens after all. They don't list Fina on their website like they do all the other display options, and the PocketBook CAD Reader was the only device that was supposed to get a Fina screen.
Nevertheless, it's good to see that a second device will be getting a Mobius screen since the Sony DPT-S1 is so expensive and difficult to purchase. But the release of the PocketBook CAD Reader is still a long ways off. January 2015 is the new target date. Unfortunately, like the Sony DPT-S1, PocketBook appears to be targeting the corporate market only with this new device and not the consumer market, but things could change by the time it gets released.
via: MR