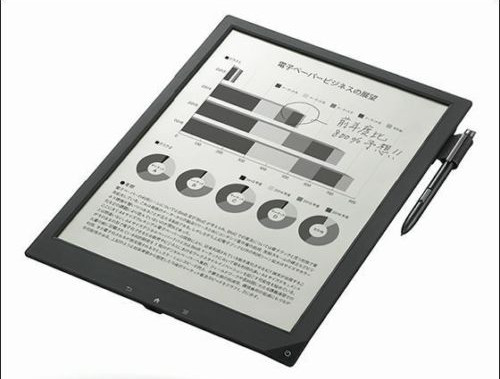 Sony is one of the most perplexing companies sometimes. They led the way into the dedicated E Ink ebook reader market; they opened ebook stores in several countries—now just a few years later they've decided to back out of the ebook industry almost entirely.
Sony may have given up on ebooks, but they are still holding onto PDFs—on how to best display them in digital form, that is. Sony is the first company to release an E Ink ereader with an A4 size screen that measures 13.3″. The device is called the Sony DPT-S1 Digital Paper Reader.
In typical Sony fashion they've finally come out with a PDF reader that lots of people want, but they make it pretty much impossible to get unless you are loaded with money.
The Sony DPT-S1 was first released in Japan last year. It finally just became available in the United States. But Sony isn't selling the device directly; they are offering the Sony DPT-S1 through a company called Worldox. And the real annoyance is Sony won't let them sell the device to just anyone who wants to buy one.
According to Worldox, they are only authorized by Sony to sell the DPT-S1 PDF Reader to business professionals in the legal and banking industries. If you are just a regular Joe that wants to buy one, they won't sell it to you. Even if you are willing to shell out the suggested retail price of $1100.
The lack of supply for the Sony DPT-S1 has inflated the already high price even more. There are retailers on Amazon and eBay that are selling the imported Japanese version for $1350 to $1500, and several listings on eBay have sold at those prices. It's crazy that there are people out there willing to pay that much money for a black-and-white E Ink PDF reader.
Too bad Sony is stifling the DPT-S1 so much by only focusing on the business market and disregarding the consumer market entirely. There's clearly a demand for a 13.3″ PDF Reader, especially when people are willing to pay a small fortune to get one.