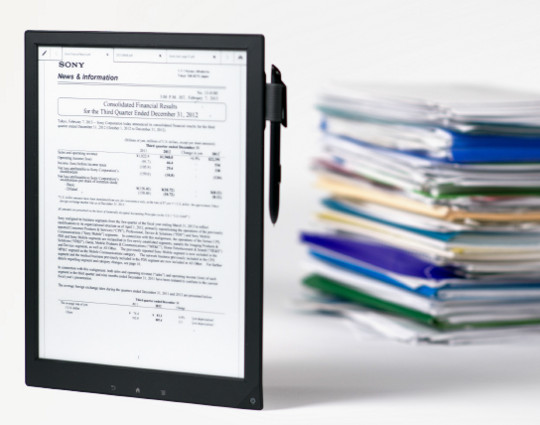 Sony may have closed the door on selling ebooks and ebook readers in the United States, but that doesn't mean that we've seen the last of Sony in the electronic paper industry. A source has turned up some information about an upcoming U.S. release of Sony's PDF Reader.
Sony first introduced their 13.3″ E Ink Mobius ereader last year. It was only available in Japan, however, and it came with a very steep price tag.
Unfortunately it's not going to be any cheaper when it arrives in the United States in May via a company called Worldox with a suggested retail price of $1100. Like in Japan, the device is being marketed as a business tool designed to reduce paper usage, not as an ebook reader.
In fact the Sony DPT-S1 Reader only supports PDF format, and not any ebook formats. Although Microsoft Word, PowerPoint and Excel files can be converted to PDF files to read on the device.
Many would argue that a tablet, especially something like an iPad, would be a much better value. It's hard to disagree with that, but the Sony DPT-S1 offers an entirely different type of reading experience.
The main difference is the screen. The DPT-S1 is the first device to use a 13.3-inch E Ink Mobius screen. It's super thin and super light. Plus it's a lot more durable than normal E Ink screens because it uses plastic instead of glass for the backplate of the display, which also contributes to the lightness.
Sony's dedicated PDF Reader also has two types of touchscreens, one that responds to a finger's touch, and a more sensitive electromagnetic touchscreen for using a stylus.
The device also includes Wi-Fi, a micro USB port, microSD card slot, and it comes with 4GB of memory. Battery life is estimated at 2-3 weeks. It only weighs in at 12.6 ounces, and measures 9.25″ x 12.25″ x .281″.
This device has some intriguing hardware for sure, but being that it only supports PDF format the software leaves much to be desired. If could be pretty interesting if hacked, but with a price tag of $1100, that's a pretty skinny market.
More information about Sony's PDF Reader can be found on the links below:
Basic Operation Guide (pdf)
Sony DPT-S1 User Manual (pdf)