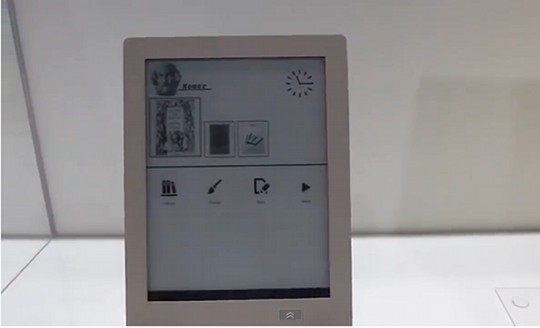 The other day I posted about a new 13.3-inch E Ink ereader from Netronix. In the background of the video you could see a smaller device that wasn't demoed.
In addition to the 13.3-inch device, Netronix also has a 6.8-inch version with the same set of features. Both are note taking devices in addition to being ereaders.
Netronix is looking for distribution partners for their 13.3-inch device, but they already have at least one U.S. retail partner on board for the 6.8-inch model. Astak plans to sell it later this year. They used to sell E Ink ereaders but they've been out of the market for a few years.
Like the 13.3-inch model, the 6.8-inch version runs Android 4.0.4. The screen resolution is 1440 x 1080, the same as other 6.8-inch ereaders.
What sets it apart from a typical ebook reader is the added support for handwritten notes. The device has an electromagnetic touchscreen for accurate writing using a stylus pen. The ereader also has a regular finger-friendly capacitive touchscreen.
There are a number of different writing tools and settings. Some are shown in the video below.
Netronix's 6.8-inch ereader measures 128 x 176 x 7mm and weighs 250 grams. It has a 1500mAh battery, a microSD card slot, and Wi-Fi.
Netronix 6.8″ eReader
via: Liliputing