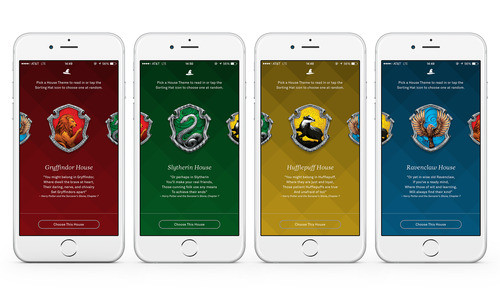 Oyster is one of the new and growing companies that offers ebooks through a monthly subscription program, and today they announced the addition of some popular titles.
Ebook subscription services have been gaining a lot of ground lately by getting some of the larger publishers to signup, and Oyster is the first to get Pottermore, the exclusive distributor of Harry Potter ebooks, to agree to offer all 10 Harry Potter ebooks through a subscription.
The entire collection of titles includes books 1-7 of the main Harry Potter series as well as the three Hogwarts Library Books also written by J.K. Rowling. Amazon's Kindle Unlimited offers the first seven titles but not the latter three.
Oyster's subscription plan costs $9.95 per month and provides unlimited access to Oyster's catalog of ebooks, which they now claim includes over one million titles. Currently the service is only offered in the United States.
Unfortunately Oyster does support any dedicated ebook readers, but they support most other devices and platforms. There's an Oyster app for iPad/iPhone and Android tablets and phones. They also offer a direct apk download for Kindle Fire tablets. And there's a Web Reader as well to read ebooks using a web browser.
In addition to partnering with Pottermore, Oyster has added some new "House Themes" to the latest versions of their iOS and Android apps that allow users to select from four additional themes while reading Harry Potter ebooks. Each theme design reflects the four Hogwarts' Houses for Gryffindor, Slytherin, Ravenclaw, and Hufflepuff. Or readers can tap the Sorting Hat icon to have a theme selected randomly.
Oyster is also running a promotion where they are sending one reader and a guest on a trip to Universal Orlando Resort to experience The Wizarding World of Harry Potter. For more info see Oyster's Harry Potter page.