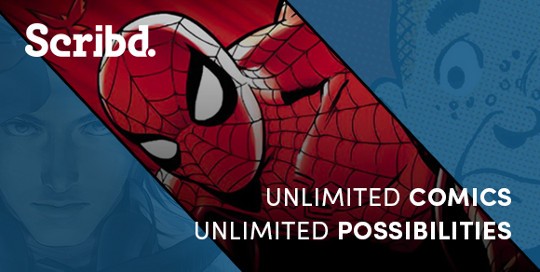 The rising tide of ebook subscription services has been gaining ground lately with more and more major publishers getting onboard with the idea.
Scribd has been doing their part to expand on their monthly subscription service, which costs $8.99 per month.
Over the past three months they've added audiobooks, signed with Macmillan to bring in more popular titles and authors, and now Scribd has announced that they've added more than 10,000 comic books and graphic novels to their catalog of e-content.
Between the 10,000+ comic books and 30,000+ audiobooks, Scribd now claims their service offers over 1 million titles including ebooks. They've certainly added a lot over the past year; last May their catalog only consisted of about 300,000 ebooks.
All of Scribd's content is available under their one $8.99 per month service plan. Subscribers get unlimited access to Scribd's entire catalog, so that means users can download and read as many comics as they can handle.
The comic selection is quite extensive and includes a wide range of titles across a number of genres. Publishers include Marvel, Arcana, Archie, Boom! Studios, Dynamite, IDW/Top Shelf, Kingstone, Space Goat, Top Cow, Valiant, and Zenescope.
The press release notes that the selection of titles includes classics like the X-Men, Avengers, Daredevil, Archie, Judge Dredd, the Rocketeer, Spider-Man, My Little Pony, X-O Manowar, Transformers, Locke & Key and there's also acclaimed graphic novels and Manga.
Scribd's service is available via apps for the iPad and iPhone, Android tablets and phones, and Kindle Fire tablets. They also have a web reader that works with web browsers.