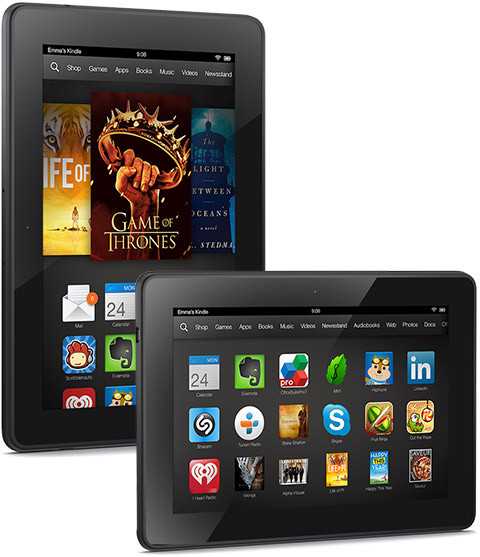 One of the features that Amazon offers for Kindle ebooks that not very many other companies offer is text-to-speech. Having the option to have your ebooks read aloud is a handy feature to have sometimes.
Not all Kindle books support text-to-speech, or TTS for short. It's up to publishers and authors to enable the feature.
The way to tell is on the product description page for ebooks at Amazon. It will say if text-to-speech is enabled or disabled in the product details section halfway down the page.
Getting ebooks that support TTS is the first hurdle. The second is getting a device that supports text-to-speech.
The biggest limitation with Kindle TTS is that it is only available on a few devices. TTS does not work with any of Amazon's Kindle reading apps.
The only way to use text-to-speech on Kindle books is to use a Fire tablet, Fire Phone, or one of the older model E Ink Kindles that Amazon doesn't make anymore like the Kindle Touch, Kindle Keyboard, Kindle 2, and Kindle DX. Those devices are only available used nowadays.
There are workarounds, of course, like removing the DRM from Kindle books and using an ePub app that supports TTS, or using accessibility voice over features like on the iPad to read everything aloud, but those options are cumbersome to use and aren't very practical for average users.
So pretty much the only way to make use of Kindle's text-to-speech anymore is to use a Fire tablet (or a Fire Phone, it turns out—see comments). That's a pretty big limitation but at least TTS is one of the things the Kindle Fire tablets really excel at.
Fire tablets use IVONA's text-to-speech voices and they sound surprisingly pleasant, nothing like the dry robot voices of old. There are a bunch of additional voices that can be installed as well, including a number of foreign language voices. These are accessible from the settings menu under language.
The Kindle's TTS has really good cadence and speed as well. You can adjust the reading speed; there are six different settings from super slow to super fast.
The Fire's TTS turns pages as it goes along, but it doesn't highlight the words as it reads like it does when using an audiobook to read aloud. Speaking of audiobooks, Fire tablets will use the audiobook to read aloud instead of TTS at the beginning of a book if there's an audio copy available (Amazon will try to sell it to you by giving a sample at the beginning).
Text-to-speech also continues to read when you turn the tablet's screen off, so you don't have to worry about that. But one annoying thing I discovered is that TTS will turn off if the screen rotates, so you need to lock screen rotation to avoid that.
Aside from Fire tablets and the Fire Phone, the only other option for Kindle TTS is to use an older E Ink Kindle. The video below demonstrates TTS on the Kindle Fire HDX as well as the Kindle Touch. The voices on the Kindle Touch aren't as good as the IVONA voices, and you don't have the option to download additional voices. There's just a male and female voice and three speed settings.
Update: As a commenter below mentioned, it is possible to use text-to-speech on an iPad and iPhone with the Kindle app, and many other apps. See here: How to Enable Text-to-Speech on iPad & iPhone.
Kindle Text to Speech Video Review