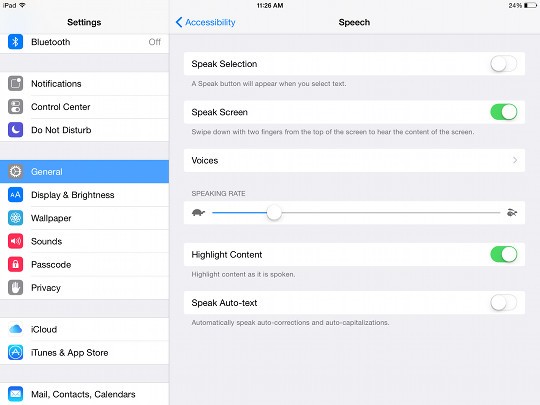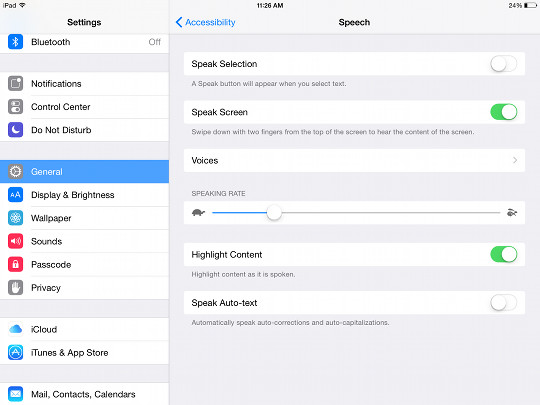 Last week I posted a text-to-speech review for Kindle devices and a reader left a tip about how to enable text-to-speech for Kindle ebooks using an iPad or iPhone.
The iOS Kindle app doesn't support TTS normally but you can use a screen reading accessibility feature on iOS devices running iOS 8 and newer to read the contents of the screen aloud, and it even automatically turns pages.
This effectively creates text-to-speech for all reading apps, including Kindle and iBooks, and most likely all the other popular reading apps too. It can be used to read aloud using the Safari web browser as well, and just about everything else involving text.
The text-top-speech feature is called Speak Screen. It's a new accessibility feature introduced with iOS 8. It builds off of the more limited VoiceOver feature that could previously be used for TTS to some degree but it's cumbersome to use and doesn't turn pages with ebooks.
The new Speak Screen feature will read aloud content on the screen when activated. You can also set it to highlight content as it reads, or set it to add a speak button when you select text, and speak aloud auto-corrections.
There are a bunch of different voices that you can set for different languages and dialects. There's a speaking rate dial to adjust the reading speed.
The defualt voice is the typical female robot TTS voice that's not very good. There's an enhanced voice for English (U.S.) called Alex. It's a lot better than the default voice but the file size is a hefty 869 MB. The Alex voice is pretty good but it's not as good as IVONA TTS voices.
One thing I noticed about the Speak Screen feature is you can even switch to other apps and continue to have the ebook read aloud in the background.
Note: This Speak Screen feature is super buggy from my experience trying to use it on an iPad Air. It doesn't start reading much of the time, and the only way to get it to work again is to restart the device. The highlighting is also really hit or miss, and trying to switch voices often doesn't do anything.
How to Enable Speak Screen (TTS)
This works with iOS devices running iOS 8 and newer:
Open the Settings App.
Select the General tab then Accessibility > Speech > toggle Speak Screen on.
From there you can also change voices, adjust the speaking speed, and enable highlighting, Speak Selection and Speak auto-corrections.
After the Speak Screen setting is enabled, activate Speak Screen by swiping down from the top of the screen with two fingers.
The onscreen menu allows you to pause and play, go back and forward and change the rate of speech. Tap the arrow to minimize and the x to exit.
Below is a video demoing how the Speak Screen feature works. Fast forward to 1:10 if you just want to hear what the Alex voice sounds like before downloading the huge file.
Text-to-Speech on iPad/iPhone Video Review