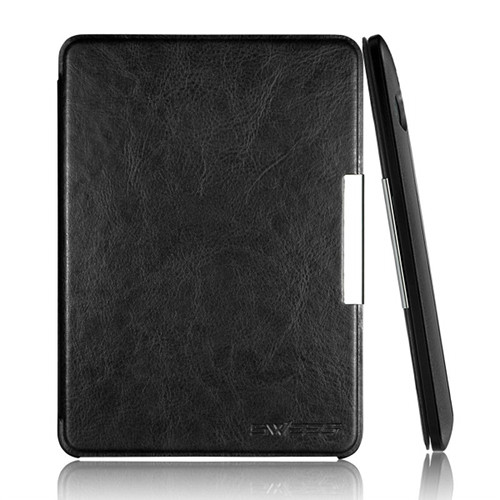 After putting together the Kindle Voyage Covers and Cases List last October, I had a hard time choosing a good case for the Kindle Voyage, so I ended up putting off getting a cover until just recently.
The cover I ended up choosing wasn't available when I made the list. A reader left a comment earlier this year about a nice-looking Swees cover. It was only $9.99 with free shipping (2-day Prime as well) so I decided to pull the trigger and order it.
I haven't heard of the Swees brand before, but it turns out they make some very nice affordable covers.
The cover fits the Kindle Voyage perfectly. It's thin and light and has unique contours and cutouts to fit the Voyage like a glove, and the cover fits nice and tight and will not accidentally fall off.
The Swees cover supports auto sleep/wake so that the Kindle's screen automatically turns on and off when opening the cover, although it should be noted that ad-supported Kindles still require you to swipe the screen to turn on, which is super annoying (you have to pay Amazon an extra $20 so that it opens up to reading instead of having to swipe across a screensaver ad).
The Swees cover is held closed by two strong magnets. In fact the magnets are so strong that it's hard to open the cover from the clasp; you have to grab the edge of one of the corners to pull the cover open, so it's not going to open in a bag or purse accidentally.
One thing I really like about the cover is how easy and flat the front flap folds around the back. Some covers have too much resistance when folding back and don't sit well or slide up and down too much. The Swees cover works well and feels comfortable with the front folded back, and for me with bigger hands it really makes the PagePress sensors easier to use for turning pages because with the added thickness of the cover there's more to hold onto.
Overall the Swees cover has a good feel to it. Obviously for the price it's synthetic leather. A minor complaint, there's not much texture so the outside is a little on the slick side. The inside has a soft microsuede material, though, and with the front flap folded back it provides enough texture that it doesn't feel like it's going to slip.
The Swees cover also comes with 2 screen protectors. But I've never been a fan of screen protectors, especially on an E Ink screen, so I won't use them.
All in all, I think the Swees cover is a good buy, especially for under $10, and it comes in a variety of colors. It's a good alternative to paying $45-$60 for one of Amazon's official Kindle Voyage covers.
Kindle Voyage Swees Cover Video Review