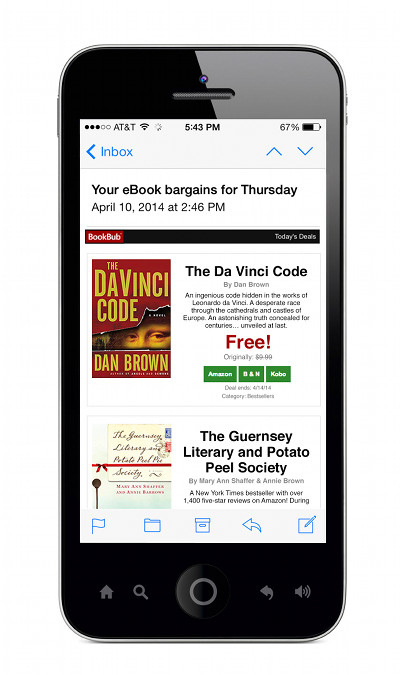 A reader sent in a tip yesterday about a popular service called BookBub that sends out daily email notifications highlighting various ebook deals, discount promotions and free ebooks from major ebook retailers.
You can choose what types of notifications to receive across categories and genres that interest you. And the service is free to use. All that is required to sign up is an email address.
BookBub has been around since 2012 and is based in Cambridge, Massachusetts. Their service is available in the United States, and they just expanded into the UK last September and Canada last month.
The way BookBub works is their editors sift through all the freebies and promotional deals that authors and publishers and ebook stores offer each day to highlight the best titles and deals to include in the daily email alerts.
Many of the deals are limited-time offers that are only offered for a day or two, so you have to act fast to get them before the price goes back up.
When you find an ebook deal that interests you, you click through to your ebook retailer of choice to purchase and download the book; BookBub isn't involved in selling the ebooks. The list of supported platforms includes Kindle, Nook, iBooks, Google Play Books, Kobo, and Smashwords. Sometimes a deal is offered on all platforms and sometimes it's just limited to one or two.
In addition to choosing favorite ebook genres, subscribers can select what retailers they prefer to receive notifications about, and subscribers can also sign up to follow specific authors.
You can signup to receive emails at BookBub.com. Their websites shows currently discounted titles as well as free ebooks to see what kind of deals are available right now.
BookBub: Great Deals on Bestselling eBooks