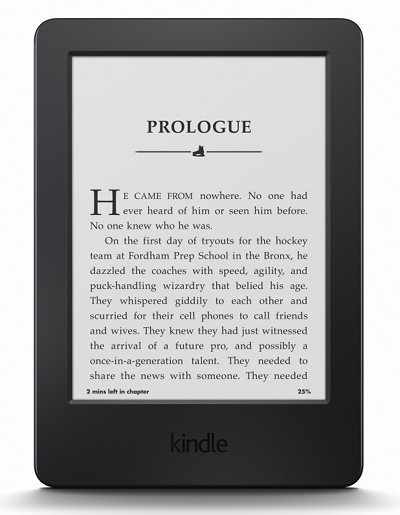 Amazon's latest entry-level Kindle is on sale this week at Amazon.com for $59. That's $20 off the regular price, a 25% savings. The sale ends Saturday, March 7th.
The entry-level Kindle is also on sale for the same price from authorized retailers like Best Buy and Staples, if one of those stores is nearby and you want to see one in person first before buying.
Yesterday I posted a comparison review between the entry-level Kindle and the Kindle Voyage.
The main theme of the comparison is both devices offer all the exact same software features and they operate at the exact same speed for turning pages, opening ebooks, shopping the Kindle store, etc.
All the advantages of the Kindle Voyage are hardware related, which mainly includes a higher resolution screen, a frontlight, and page sensor buttons. It's also thinner and lighter, and it has a flush screen with capacitive touch, whereas the basic Kindle has a recessed screen with infrared touch.
So if you want all the same software-related features as the $199 Kindle Voyage but don't want to spend that much money, the entry-level Kindle is a good option for $59.
The entry-level Kindle doesn't have a frontlight like the Paperwhite or Voyage, and the screen resolution is lower and the screen technology is older, but when it comes to reading text it can still get the job done.
And it's hard to argue with the price, even if you're like me and aren't a big fan of the clunky plastic design (see 2014 Kindle Review for more details).